Toshiba 62HM196 62-inch 1080p DLP HDTV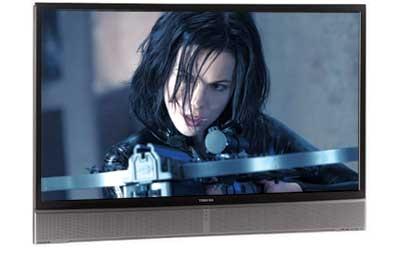 As the principal purveyor of HD DVD hardware, Toshiba currently enjoys a unique position in the eyes of home theater aficionados. By nearly all accounts, the video quality of HD DVD titles has been consistently superior to that of rival Blu-ray's, while the cheapest HD DVD players are less expensive. That makes the numerous manufacturers and studios lined up on Blu-ray's side seem a bit suspect, while lone little Toshiba looks decidedly sympathetic. Let's face it: Everybody loves an underdog. (Never mind that HD DVD's other big-name supporters include Universal Studios and that ultimate overdog, Microsoft.)
But picking a winner among HDTVs is much more difficult, and it's higher-volume products like the Toshiba 62HM196 62-inch 1080p DLP HDTV - not HD DVD players themselves - that pay the bills. This rear-projection set is actually the smallest in the company's mainstream 1080p lineup (competition from flat-panels has apparently retired last year's 56-incher). Despite its massive dimensions, the Toshiba 62HM196 looks about as unobtrusive as any big-screen HDTV can. Its styling, with a very thin gray frame around the screen and light gray speakers set in the lower fuselage, diverts attention from the cabinet and toward the picture. As for the big remote, it is generally well laid-out, with a convenient cluster of keys around the main cursor control. Although the buttons look as if they could be backlit, they're not.
SETUP Starting with Toshiba's own HD-XA1 HD DVD player, the 62HM196 played amiable host to almost all the gear I could throw at it. The one exception, fittingly enough, was the Samsung Blu-ray player, which would not allow me to select its 1080p output. That's because, unlike a few other 1080p rear-projection HDTVs this year, the 62HM196 can't handle a native 1080p-format HDTV signal. Before you discount it as obsolete, however, it's worth noting that no 1080p broadcast sources are available, and that with good deinterlacing the 1080i output from a Blu-ray or HD DVD player should wind up looking the same as the 1080p output anyway. That said, if you demand 1080p input for whatever reason, then you'll want to seek out another set.
While the 62HM196's input bay is otherwise perfectly well-equipped, computer buffs might bemoan its lack of a PC input - though they'll probably raise an intrigued eyebrow at the Ethernet port. Unlike that of the company's HD DVD players, however, the TV's Ethernet connection is designed not to get firmware updates but to retrieve photos and music from a PC on your home network, as well as enable you, Toshiba's manual says, to "schedule recordings and reminders by sending an e-mail to the TV from any PC."
The JPEG and MP3 sharing over a network performed well, allowing me to view photos and play music using the TV as a sort of second, very big computer monitor - a nice feature for enjoying digital photos with friends and family. Scheduling recordings, on the other hand, seemed like a cool idea only until I read the fine print: The TV can control a VCR, DVD recorder, or DVR only via the set's TV Guide On Screen electronic program guide, and you can record only through a composite-video connection - the lowest-quality video signal available. TV Guide On Screen is there primarily to support the set's CableCARD functionality by replacing the onscreen guide you'll lose when you give up your cable box, but if my experience is any indication, it's a poor substitute for your cable company's guide. That said, TVG's performance varies on different digital cable systems, so you may have more luck than I.