Tiny Killer Subs Page 5
Velodyne SPL-800R ($999) What's in the Box? | How Big Is It? | Setup | How Low Does It Go? | How Big the Bang? | How Did It Sound? | What's the Bottom Line?
What's in the Box?
Driver size 8-inch
Rated power 1,000 watts rms
Cabinet design sealed
Finish gloss black, maple, or cherry veneer
Controls up/down pushbutton volume; continuously variable low-pass crossover (40 to 120 Hz); auto-on/off, master power switches; remote control with pushbuttons for volume, mute, phase (0°, 90°, 180°, 270°), EQ presets (1 to 4): LED on/off; Night mode
Ins & outs dual line inputs & outputs; speaker-level inputs (multiway posts); mike in, IR repeater in, 12-volt-trigger minijacks
Warranty 2 years nontransferrable
Dimensions (WxHxD) 10 3/8 x 10 3/4 x 12 1/2 inches
Cubic volume 0.77 cubic foot
Footprint 0.9 square foot
Weight 35 pounds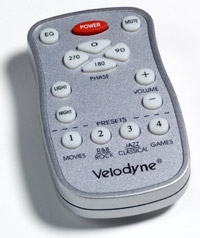 Setup The Velodyne has two key features not shared by the other subs here: a potentially useful room-EQ adjustment option, and a remote control that allows you to adjust volume and the EQ setting on the fly from your couch. Set up the supplied mini-mike, hit the appropriate button on the remote, and the SPL-800R automatically adjusts for your room's acoustics. To maintain a level playing field, I did all of my comparisons with the Velodyne unequalized. When I experimented with this feature, it slightly mitigated a small 50-Hz bump in my room's response but otherwise had no dramatic effect. It might in your room. The EQ presets boosted output by a few dB in the 50- to 60-Hz range depending on the setting. Connection and calibration were straightforward, and being able to adjust phase from the listening position made it simple to hear changes. I had no trouble getting the Velodyne to integrate smoothly with crossovers as high as 120 Hz, so it should work well with very small satellites.
Bass limit 25 Hz at 82 dB (maximum 10% distortion)
Average SPL from 25 to 62 Hz 96 dB
Maximum SPL 108 dB at 62 Hz
Dollars per dB $10.41
How Did It Sound? James Taylor While both the Sunfire and Velodyne convincingly reproduced the bass guitar's lowest notes, the SPL-800R sounded a smidge warmer. This was due entirely to the Velodyne's audibly greater output between 60 and 120 Hz - even with its crossover set to Bypass, the Sunfire clearly began to roll off well below 100 Hz.
Janet Jackson The Velodyne once again impressed me as more natural and warm, while the Super Junior was harder-edged, exaggerating the synth-bass sound. But both subs gave convincing weight to the lowest notes.
U-571 With my system's volume set to the test reference level, the SPL-800R pumped out plenty of sound in the bottom octaves, delivering depth charges with stunning impact. Still, in that low 30-Hz region, the Sunfire simply moved more air before its limiting circuits kicked in.
The Fifth Element The Velodyne was the best behaved here. Its limiters kept rude noises in check except for some minor "fluttering" that came in at the test reference volume. But I could only hear this when I played the sub alone - it was otherwise masked by the other speakers. As I turned up the dial, the SPL-800R eventually stopped yielding more bass, but its limiters kept distortion in check.
What's the Bottom Line? Velodyne's pint-size powerhouse delivered deep bass with genuine impact and enough volume to fill small to medium-size rooms. Smooth response in the upper octaves will let it blend with smaller satellites, and it's very well behaved when pushed beyond its limits. Automatic room EQ and the convenient remote control will prove useful in many setups.
Manufacturer Velodyne, velodyne.com, 408-465-2800
LATEST VIDEO