Tiny Killer Subs Page 4
Sunfire True Super Junior ($995) What's in the Box? | How Big Is It? | Setup | How Low Does It Go? | How Big the Bang? | How Did It Sound? | What's the Bottom Line?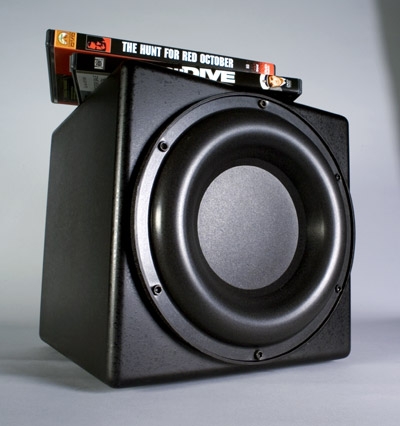 What's in the Box?
Driver size 8-inch
Rated power 1,500 watts rms
Cabinet design ported by 8-inch passive radiator
Finish cherry lacquer
Controls level; continuously variable low-pass crossover (30 to 100 Hz) and phase (0 to 180°)
Ins & outs dual line inputs & outputs, speaker-level inputs
Warranty 2 years transferrable
How Big Is It?
Dimensions (WxHxD) 9 x 9 1/4 x 10 1/2 inches (including protrusions)
Volume 0.42 cubic foot
Footprint 0.56 square foot
Weight 29 pounds
Setup The Super Junior's phase control allows for very subtle adjustments - which are unlikely to be necessary in most installations. The crossover doesn't have a bypass switch, though the frequency knob's highest setting is marked Bypass, while the setting below it is marked 100 Hz, suggesting this is the highest recommended crossover point. That jibes with what I found in my room, where the Sunfire's bass extended only up to about 80 or 100 Hz, making it a poor match with mini-satellites that may drop off as high as 150 Hz. Note that the Junior has no power switch - its signal-sensing auto-on/off is always active.
How Low Does It Go?
Bass limit 32 Hz at 93 dB (maximum 10% distortion)
How Big the Bang?
Average SPL from 25 to 62 Hz 97 dB
Maximum SPL 102 dB at 62 Hz
Dollars per dB $10.25
How Did It Sound? James Taylor The Sunfire made short work of this tune, with effortless oomph on the song's low Cs, which demand some honest action at 32 Hz. Both it and the Velodyne played the song about as loud as I could ask, but they weren't identical, with the Sunfire delivering more slam.
Janet Jackson In the dB drag-racing department, the Sunfire bested all comers, playing this track louder and with more solar-plexus smackdown than either of the other two subs. It did dramatically better than the tiny Pinnacle here, although the improvement over the Velodyne was much more subtle.
U-571 With the master volume set at my test reference level, which in my room produces sound close to what you'll hear in the middle rows of a top-rank cinema, the Super Junior poured out enough deep bass to excite my room's one incurable rattle. (It's in the wall - likely a piece of loose Romex cabling. If I could just get my mitts on the bozo who prewired the framing . . . wait a sec - that was me.)
The Fifth Element At volume settings greater than -5 dB (5 dB louder than my reference level), the Sunfire produced an odd "pumping" noise that sounded like port noise - but with only a passive radiator, there's no open port to let air escape from the cabinet. My guess is that it was the sound of rushing air currents produced by the driver's extreme long-throw action. Nonetheless, at these high volumes with all five satellites going, the noise wasn't an issue. Strong ultra-low bass also created a raspberry-like buzz at extremely high volumes, but here again the high-frequency sounds coming from the rest of the speakers masked it.
What's the Bottom Line? Possible second career as a paint-can shaker. This thing plays low and loud. No question - in my room the Sunfire had the most deep-bass grunt of our trio. Its ability to generate palpable amounts of energy in the sub-30 Hz region continually amazed me. Although our measurements suggested distortion in that range (for a full explanation, see "In the Lab"), the Sunfire played louder and seemed to go deeper - with more impact - than any other sub in this group.
Manufacturer Sunfire, sunfire.com, 425-335-4748
LATEST VIDEO