Test Report: Toshiba 47TL515U 3D LCD HDTV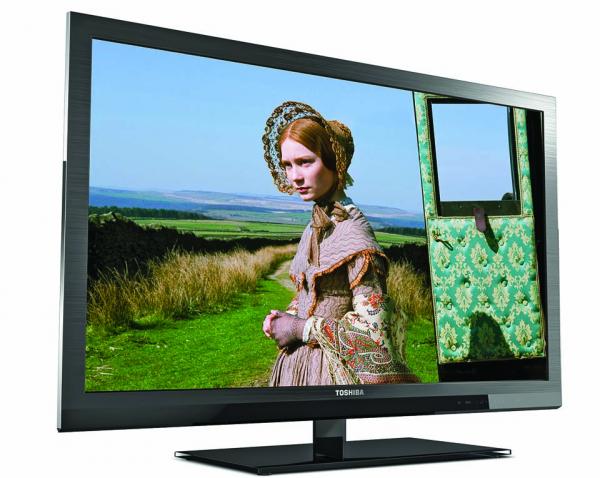 Passive 3D and edge-lit- LED come together in Toshiba's affordable TV. While other manufacturers of 3D TVs make the case for which is better — sets that use active- or passive-glasses technology — Toshiba's long-term 3D strategy is to dump glasses altogether. A highlight of recent trade shows that Toshiba has displayed at has been the company's 4K TVs, which are capable of autostereoscopic display. Those sets are supposed to be available in Japan sometime over the next few months at a price of around $12,000. Meanwhile, here in the real world we have the company's 47-inch TL515U Series TV, a 240-Hz model that uses passive technology to display 3D pictures and sells for a much more reasonable $1,300.
Aside from its passive-display tech (Toshiba calls it 3D Natural), the 47TL515U has an edge-lit LED backlight with local dimming to help deepen blacks — a traditional weak area with LCD. It also has a ClearScan 240 display option to reduce motion blur in video images, and a "Film Stabilization" mode to smooth out camera pan motion in film-based ones. Like many other new TVs, the 47TL515U has built-in Wi-Fi and streams media from a select bunch of services: Netflix, Vudu, Blockbuster on Demand, Pandora, Skype, and a few others, along with a Yahoo! Widgets portal that includes Twitter, Facebook, Flickr, Accuweather, and more. Toshiba also gives you four sets of RealD glasses to get you and your family rolling with 3D movie watching.
For such an affordable set, the 47TL515U doesn't look cheap. The bezel surrounding its glare-reducing matte screen has an attractive "brushed metal" texture, and the included swiveling stand's base consists of a slab of thick, green-tinted glass. An inch-high strip running along the bottom contains a set of touch-sensitive controls on the right side to power up the set, adjust volume, change channels, and switch inputs.
Toshiba gives you four HDMI jacks, including one with ARC (Audio Return Channel) to send audio back out to a receiver — useful if you have an antenna hooked up to the TV. Among the features listed in the owner's manual (no hard copy is included, annoyingly, leaving you to search for and download a copy from the company's support site) are HDMI InstaPort, a technology that lets you reduce lag time when switching HDMI-connected devices. When I changed inputs on the set, however, it took 4 seconds to switch from one source to the next. I'm sorry, but any time you slap on the prefix "Insta," the associated action had better happen a lot faster than 4 seconds! Other inputs of interest include an RGB jack to hook up a computer and a pair of USB ports.
Toshiba's remote control has a mostly backlit keypad that helps you find specific buttons in a dark room. Even so, a few controls that I found myself using often, like the ones to switch aspect ratios (Pic Size) and trigger 3D display mode, lacked backlighting and were so small that I needed to reach for my flashlight to locate them. One good thing about Toshiba's remote: a red Netflix button smack in the middle so that you can easily jump to that service.