Test Report: Pioneer Elite Kuro PRO-111FD 50-inch plasma HDTV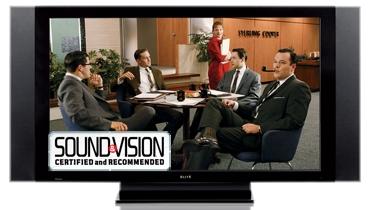 Last year's lineup of Pioneer Kuro plasmas established a new benchmark for flat-panel HDTV performance, with the sets serving up deep-black backgrounds that were unlike anything we'd seen on a plasma or LCD model before - or since (See the review of the PRO-110FD in "Plasma vs. LCD: Round II"). Having achieved its darkest dreams, Pioneer then announced plans at the Consumer Electronics Show to redouble its efforts to make blacks even darker on its next generation of TVs. To see how well the company fared, we called in the Elite PRO-111FD, Pioneer's new top-dog plasma in a 50-inch screen size.
You'd expect a 50-inch plasma TV that sells for five grand to be packed with bells and whistles, and the PRO-111FD doesn't disappoint. Its Optimum picture mode uses internal and external sensors to make automatic picture adjustments - including brightness, contrast, color, and even color temperature - based on ambient light conditions in your room. And the TV's DLNA certification means it can stream audio, video, and photo files from compatible gear when connected to a home network via the back-panel Ethernet jack. The set comes with side-mounted speakers, but they can be left off if you prefer a more streamlined look. Speaking of looks, the PRO-111FD's gloss-black styling originated with Pioneer, so we can forgive the company if its TV now resembles many others. What sets it apart is a substantial metal-and-acrylic stand - also gloss black - with a strikingly minimal footprint. A panel input on the TV's left-hand side offers up a basic set of control buttons as well as an A/V input with HDMI and USB jacks.
Pioneer's remote control, which has a more substantial look and feel than that of other TV handsets, is another nice touch. The keypad is fully backlit - a good thing, since its smallish buttons would otherwise be tough to navigate in a dark room. A set of direct-input buttons at the top lets you quickly switch video inputs, and you can jump between display modes by hitting the Screen Size button. Along with a Dot by Dot option that displays 1080i/p programs with no overscan, there are Full (16:9) and 4:3 modes, as well as a number of picture zoom and stretch options for both standard- and high-def programs.
SETUP
The PRO-111FD's elegant design also extends to its menu system. You can custom-label inputs using an onscreen graphic keyboard and store custom picture adjustments for each input in the Standard picture mode, a setting that also allows the TV to meet Energy Star 3.0 power-saving requirements. The six additional picture presets - the settings for each of which can be custom-tweaked - include a Movie mode that provides a relatively accurate color balance (see Test Bench), and a Pure mode that virtually eliminates all video processing.
And then there's the sensor-driven Optimum mode. While it served up a decent enough picture for casual daytime viewing, I preferred to invoke my carefully honed Standard setting for each input. Also, I found that with the Optimum setting's sensors switched on, picture settings for other presets were affected as well, leading me to turn it off.