Test Report: Lirpa Labs Liberty Freedom 1776 A-FY Tower Speakers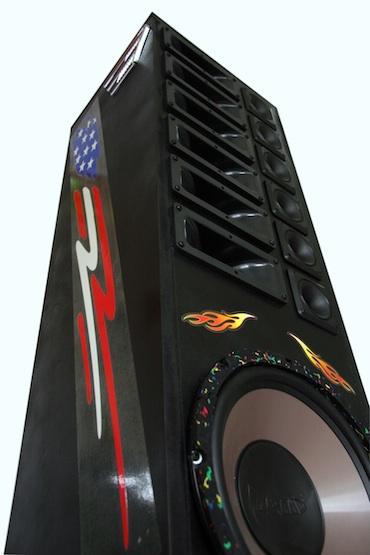 Key Features
$888/each lirpalabs.com
• (6) 7 x 3-in horn-loaded piezoelectric tweeters; (6) 3 1/2-in piezoelectric horn tweeters; 13-in polypropylene woofer (with D.O.T.S); 46 X 15 1/2 X 14 1/2 in; 50 lb • (3) Toggle switches engage 12-dB boost at 200 Hz, 3 kHz and 17.76 kHz
It's rare, in the life of a reviewer, to have the privilege of critiquing a product so amazing, so game changing, so paradigm shifting as to completely remap the industry landscape.
Such a product is the Liberty Freedom 1776 A-FY tower speaker from Lirpa Labs, the company founded by storied audio designer Dr. Loof Lirpa.
"With all the economic turmoil caused by endless bailouts, excessive government spending, and the misuse of the American worker, I felt it was time to bring speaker manufacturing back to the United States, where speakers were invented," Dr. Lirpa said in an interview I conducted at the product's debut during this year's CES. (See Brent Butterworth's coverage here.) After the company's second bankruptcy, Lirpa was able to secure an unused chunk of Obama bailout money as capital. The speakers are being manufactured in Lebanon, Kansas, the geographical center of the United States.
Lirpa also said to me, "We Americans are the best trained, most capable, most highly skilled workers in the world, and it was time that someone in the A/V business remembered that."
When I tried to respond that many A/V companies are making products in the U.S., Lirpa was having none of it. "America!" was his only rejoinder.
After securing the first review sample for S+V, I waited patiently at home for the delivery.