Is the Taycan the Sound of Things to Come?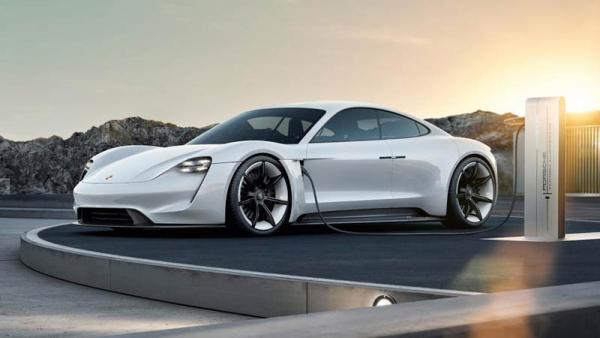 The Taycan is Porsche's newest, almost-ready-to-debut car. It's all-electric, so the sound of its exhaust will be unlike that of any other contemporary Porsche. But it's not the exhaust that might be its most interesting sound. It might be its built-in Apple streaming.
The first car that Ferdinand Porsche designed and built, the P1, was electric. In fact, foreshadowing things to come, in 1899 Dr. Porsche himself raced the P1 in a 24-mile road race and beat the next-best electric competitor by 18 minutes.
Fast-forward to today, and Porsche is preparing to unveil the Taycan (pronounced tie-con) on September 4 (a prototype is pictured here). With deliveries scheduled for December, Porsche initially planned to build 20,000 copies annually, but tremendously strong pre-orders persuaded the company to up that number to 30,000, and then to 40,000. This will be an important and influential vehicle.
In addition to its many other technical innovations, the Taycan will also be the first vehicle to have built-in Apple Music streaming. You won't need an iPhone, a Bluetooth connection, or a USB cable. The streaming service will be integrated with the car's entertainment system, accessed through its touchscreen, multifunction steering wheel, or voice commands, just like other sources such as broadcast radio. Yes, you'll need an Apple Music subscription; Porsche will give new and existing Porsche owners a free six-month subscription. The car's internet connection is free for the first three years.
Of course, if you already have an Apple Music account, you can use that. The service will link a customer's Apple account ID with the Taycan ID so that music content available through the car will be identical to that on an iPhone. And, you can still use your iPhone in your Taycan via Apple CarPlay, plus you'll get the various Apple CarPlay features such as traffic information. The biggest beneficiaries might be Android users. Porsche does not support Android Auto, so getting Apple Music is a nice consolation. Interestingly, apparently 80% of Porsche drivers are in the Apple camp.
Following its introduction in the Taycan, Apple Music could certainly be extended to other Porsche models. The fact that the free six-month Apple subscription will be given to existing Porsche owners certainly suggests that firmware updates will bring this feature to them. And, I suspect that other auto makers are considering the same Apple feature.
This is all part of Apple's efforts to expand Apple Music. It's certainly a smart move by Apple; by placing Apple Music in non-Apple devices (like cars) it greatly broadens its reach. As further evidence, you will recall that Samsung TVs will support iTunes. Although, I wouldn't want that to dissuade you from getting a Porsche.
Oh, just one more thing: A Taycan just did 2,128 miles in 24 hours on the Nardo test track in Italy with an average speed between 121 to 134 mph, with ambient temperatures of up to 107 degrees, stopping only to recharge and change drivers. I imagine that Dr. Porsche would be happy with that.