Talking Shop: Definitive Audio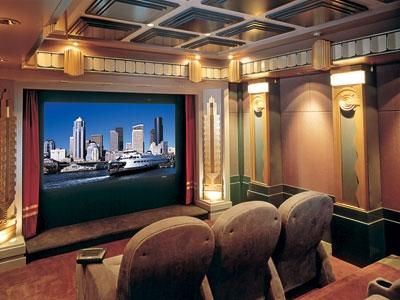 In a basement in 1975, back when turntables were big business and Linda Ronstadt ruled the airwaves, three friends started Definitive Audio (definitive.com, 206-524-6633). In its early days, the high-end store sold two-channel gear by the likes of Mark Levinson and Magnepan. There was no video. Fifteen years later, it launched a division for custom installation and service.
Today, Definitive has locations in Seattle and nearby Bellevue. And although the seven demo rooms in Bellevue, for example, include the grand Theo Kalomirakis-designed space shown above, Definitive prides itself on store environments that aren't intimidating. As its Web site says, "We welcome people who don't know a watt from a woofer."
The retailer sells products from a wide range of manufacturers, including Anthem, Crestron, Escient, Linn, Monster, Pioneer Elite, Samsung, Sonance, Sonos, Sony, Sumiko, and Wilson Audio.
"We do everything from $1,000 systems to ones all the way up in the stratosphere," says president Mark Ormiston. And for installs that demand it, the company even has its own acoustician. He's frequently called upon to deal with noise issues in condos and office buildings.
Definitive claims it was the first retailer in the country to stage a dedicated home theater event for the public. In 1992, it hosted the THX Home Theater Experience, expecting about 50 people to show up. Ormiston laughs now, thinking back to all the people who were lined up outside the store. Needless to say, not everyone got in - plus there were parking problems. But the event was successful, with a handful of vendors showcasing prototypes of products.
Now just called the Home Theater Experience, the show has become an annual event. It's held on 2 nights in the last week of June - with valet parking available.
Ormiston says the big trends are home automation, lighting control, and integration of PCs and gaming. But he also says that keeping up with the trends isn't nearly as critical as something else in the business:
"The majority of installers need to do a better job. They leave too many clients underpromised and overwhelmed. As an industry, we get tied up in the trends - but what we really need to do is get down to the fundamentals of blocking and tackling. There's no shortage of exciting technologies, but at Definitive Audio we stay focused on delivering the promise - on budget, on time, and operable."
While Definitive is involved in a fair share of high-end marine installations and estate-level projects - some taking as long as 3 years to complete - it's the smaller jobs that many times provide more satisfaction.
"We love doing the more affordable systems," says Ormiston. "Young couples are the most appreciative customers, and the most excited. They're wide-eyed and thrilled. That's what we find so rewarding."