Taking a Drive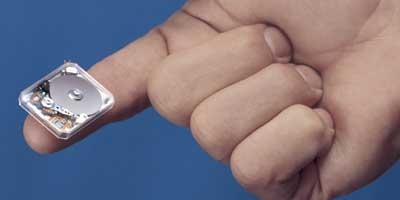 This is the most hard-driving Consumer Electronics Show in history. Once limited to computers, hard-disk drives, or simply hard drives, now inhabit a wide array of audio and video components. On Press Day, before the official opening of the 2005 show, hard drives of every size turned up in the newest TVs, DVD recorders, TV recorders, portable music players, and just about every other kind of A/V product. The palm of your hand would give Toshiba's 0.85-inch hard drive too much room, but it sits nicely on a fingertip.
The first consumer hard drive, in the IBM XT personal computer over two decades ago, was the size of a pair of bricks, frighteningly fragile, and able to store a mere 10 kilobytes of data. At its press conference in Las Vegas this past Wednesday, Toshiba showed off a hard drive about the size of a dime that stores over 10,000 times as much data. And the new drives can survive a beating and keep on spinning.
In fact, Toshiba unveiled an entire line of products - dubbed Gigastyle - based on its miniature hard drives. (The company considers hard drives ideal for recording, while optical media are superior for playback.) It includes Gigabeat audio players with capacities of 10, 20, 40, or 60 GB that store photos as well as video and display them on a built-in QVGA color LCD screen, which will be available soon, and Gigashot video/still cameras with 30 or 60 GB of storage, which Toshiba will introduce this summer. The 60-GB Gigashot records for two hours in MPEG-2, takes 5-megapixel still photos, and weighs only 10 ounces. Prices to be determined.
LG Electronics announced it was developing a camcorder phone that would store video on a hard drive. LG already makes a range of video recorders that use hard drives.
Nearly every company that showed a DVD recorder included one or more models with built-in hard drives, which let users edit their video recordings before committing them to optical disc. If this trend continues - and there's no reason it shouldn't - I'd expect that in the next year or two most new DVD recorders will include hard drives. The combination of convenience with performance is a natural. < < Back to the International CES 2005 index
LATEST VIDEO