Taken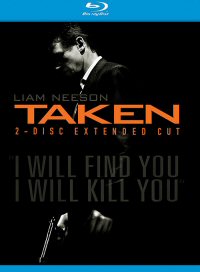 One of the best action movies I've seen in a long time offers a great picture and kick-ass audio. The AVC encode reveals phenomenal shadow detail and offers a razor-sharp image. The audio is just as impressive with an enveloping surround stage, first-rate frequency response, and pervasive ambience.
Bryan Mills (Liam Neeson) is sitting in a diner waiting for his daughter (Maggie Grace) to join him.

Chapter 4, 00:12:54
Detail, color, surround imaging.
Look for the sharp definition around small objects like the straw and cherries in the shake, the writing on the chalkboard in the background, and the texture on the artwork.
Listen to the subtle ambient sounds of the restaurant—whispered conversations, the clinking of dishes, and the sound of traffic through the windows.
The girls arrive in Paris and have their picture taken by a local.

Chapter 6, 00:20:41
Detail, shadow detail, surround imaging
Look at the girls' hair, the well-preserved film-grain structure, and the clear low-lit background—you can see garbage sitting next to the dumpster!
Listen for the sounds of traffic in the background and how realistic the dialog sounds—a "being there" experience.
Bryan Mills to the rescue!

Chapter 13, 00:48:42
Detail, shadow detail, frequency range, surround imaging
Look at the detail in the background and the individual shards of glass from the broken window.
The entire chapter is loaded with plenty of gunshots, broken glass, racing cars, and general mayhem. Use this scene to show off your system's audio prowess.
LATEST VIDEO