System Builder: 2006 Ford Explorer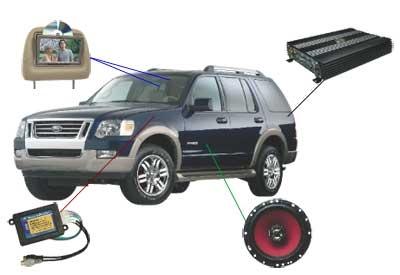 The stalwart Ford Explorer is perhaps the most visible symbol of our nation's love of SUVs. This utilitarian vehicle is as much at home in urban canyons as it is in the countryside, and you're as likely to spot a soccer mom behind the wheel with the brood in tow as a guy in camo headed for the hills with his hunting buddies. Versatility is the key to the Explorer's success, and its size makes it a great canvas for an audio/video upgrade that can run from mild to wild. This issue, we chose the 2006 Ford Explorer XLS (starting at a little over $27,000) as a sample steed and unleashed two car A/V professionals on it to see what they could create with separate $1,500 and $5,000 budgets.
$1,500 Updgrade
The Setup
$36 Soundgate LOCX line-output converter $320 DLS CA41 four-channel amplifier $260 DLS MS5A Reference 51/4-inch component speakers $160 Avincar 8LT 8-inch subwoofer $670 Installation labor and materials
---
$1,446 TOTAL
Residents of Portland, Oregon, aren't into being showy, but they take their music very seriously. So it's no surprise that about 80 percent of the installations done by Avincar - an install shop located in a recently gentrified section of town known as the Pearl District - are upgrades to factory systems. "We specialize in stealthy systems that use the stock head unit and still perform well," says Avincar president Kenneth Ward. For our $1.5K Explorer system, Ward chose a Soundgate LOCX line-output converter to step the amplified signal down from the stock head so it can be fed to a DLS four-channel amplifier behind the rear side panel. The amp powers a set of DLS 5.3-inch component speakers in the doors that replace the stock speakers. "We'd make plates for the 6 x 8-inch stock provision in the Explorer's front doors," Ward says, "and we'd treat the door area around the speaker openings with sound-damping material." For low bass, Ward adds an 8-inch house-brand subwoofer: "It fits in a small enclosure that goes in a custom fiberglass enclosure in the rear side panel of the hatch." This system enables Avincar's P-town patrons to keep a low profile - an important thing when it comes to vehicle security in any metro area.
$5,000 Upgrade
Sound in Motion in Allston, Massachusetts, starts its $5K Explorer upgrade by adding an Eclipse head unit with a 6.5-inch touchscreen. "With it you get DVD, CD, MP3, and AM/FM sources," says SiM general manager Jim Cavanaugh. "Plus you can add an iPod, Sirius satellite radio, and a navigation system, and it fits in the Explorer's dash really well." Cavanaugh advises upgrading only the front speakers in our sample system. "To stay within our budget, we'd leave the stock rear speakers in place," he says. "The front-stage sound is much more important anyway, and the driver and front passengers benefit the most." The back-seat passengers get their own entertainment zone with an add-on Vizualogic video system that includes a screen in each front-seat headrest, a DVD player, and a pair of wireless headphones that allow the front-seat passengers to listen to the upgraded audio in peace. But perhaps the best part of this video add-on is that the stock headrests are replaced with ones that contain the electronics as well as match the Explorer's interior. "They're great for a leased vehicle," Cavanaugh adds, "because you can return it to the way it was."
The Setup
$1,700 Eclipse AVN5500 double-DIN DVD/navigation receiver $1,700 Vizualogic A-1000 replacement headrests with 7-inch monitors, DVD player, and wireless headphones $350 Alpine MRP-F450 four-channel amplifier $180 MB Quart DKF 116 6.5-inch coaxial speakers $220 JL Audio CS110RG-W1v2 PowerWedge 10-inch enclosed subwoofer $850 Installation labor and materials
---
$5,000 TOTAL