SVS Releases Prime Wireless Pro SoundBase
The new
SVS Prime Wireless Pro SoundBase
($699) is a compact streaming integrated amplifier equipped with 2-channel class D amplification and a 24-bit/192kHz DAC. It connects via Wi-Fi, offering wireless connectivity via Play-Fi, AirPlay 2, Chromecast, Bluetooth 5.0 with AAC and aptX. For wired connections, it has HDMI ARC/eARC, analog RCA, 3.5mm aux, optical-digital, and Ethernet. For simple 2-channel systems where you don't need a surround-sound AV receiver, it is an easy way to get great stereo sound using the speakers of your choice. It also features a headphone jack for private listening.
Thanks to Play-Fi's flexibility and capability, this amp is hi-res capable with multi-room audio functionality, thereby offering an alternative to Sonos. Moreover, Play-Fi is brand-agnostic, so you can use it in a whole-house networked system with other Play-Fi devices, like soundbars and AVRs. Play-Fi supports up to 32 devices in up to 16 zones.
The Play-Fi app is the key to controlling it all and offers hi-res streaming from many services including Amazon Music, Qobuz, iheart Radio, Pandora, YouTube, Sirius XM, Tidal, Audible and others. Or you can opt for Chromecast or AirPlay, both of which are supported natively by many mobile apps. It also offers Spotify Connect, or you can bypass the Wi-Fi altogether by opting for Bluetooth. And it includes a physical IR remote, which not only controls the hardware, it also controls play/pause on devices through HDMI CEC, and also app-based playback, without you needing to find your phone.
On the remote, you'll find six programmable buttons for instant access to the streaming source or input of your choice, as well as dedicated buttons for HDMI, Bluetooth, optical and line-level inputs. The front panel of the unit also has the six programmable buttons, which are among the signature user-friendly features of this integrated streamer. If you're more a fan of hands-free control, all you need is a Alexa or Google Assistant compatible device and you can control the Prime Wireless Pro Soundbase via voice.
SVS specifies the power output of the Prime Wireless Pro SoundBase at 150 watts per channel into speakers with 4 ohms impedance. The company does not publish an 8 ohm power rating, even though all of its speakers carry an 8 ohm impedance rating. Certainly, it's a good thing that the amp is rated for 4 ohm operation, it ensures operability with a wide variety of speakers. Plus, there is a subwoofer output that engages an 80 Hz high-pass filter, so you can build out a 2.1 subwoofer-satellite stereo system, and no doubt an SVS subwoofer is a great pairing for this integrated amp.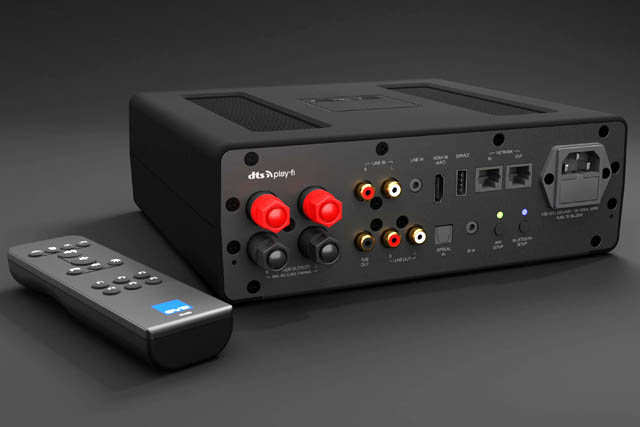 The big selling point here is the wireless connectivity and the simplicity plus flexibility in accessing apps and sources. It offers high power output in a compact form factor. But, there are a few things missing, namely phono input and USB input, any sort of room correction, and an adjustable subwoofer crossover. And the fact is you can buy a fairly decent AVR (for the same cost) that has all those features and offers Dolby Atmos as well. But, it is worth noting that a typical $700 AVR does not offer the same amount of power output into 4 ohms, and that's if it handles 4 ohms (not all can) and a typical AVR is much larger.
There's a lot to be said for keeping things simple and putting your speaker money into one high-quality pair instead of spreading it out among five separate speakers. It really depends on your usage scenario. If your sources are digital and great stereo sound are your goals, the Prime Wireless Pro is an integrated amp that's worth a close look, especially if you want multi-room audio capability.
The support for HDMI ARC/eARC as well as an optical input means it'll play nice with most TVs, making it a viable alternative to a soundbar system. However, it is worth noting the Sonos Amp is rated at 250 watts per channel into 4 ohms, and features an adjustable subwoofer crossover. But if you appreciate having one-button access to your media, along with the convenience of a physical remote, the SVS Prime Wireless Pro SoundBase is a streaming integrated amp you'll want to take a look at.