Supporting Cast: Mounts & Furniture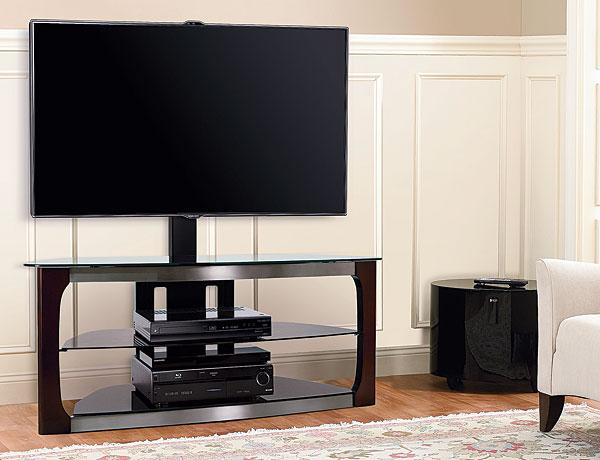 As home theater technology continues to advance and evolve, so must the accessories and accoutrements that add to the overall viewing experience. Whether you're looking for more comfortable seating options, a better solution to hide your components, or a mount that can suit your family's multiple needs, there are plenty of products out there to choose from. These 11 models represent a sampling of the latest and greatest home theater mounts, racks, chairs, and cabinets.
Three for the Road: Bell'O Triple Play TCP2133 ($400)
The Bell'O Triple Play TCP2133 is a stand/shelf combo that provides three configuration options to fit your display and room demands. Attach it to the rear frame and swivel mounting system, use it as a three-shelf standalone table, or remove the mounting pole and hang your TV on the wall above the table. It can accom- modate most flat-panel TVs up to 60 inches and 125 pounds and at least four audio/video components. The Bell'O TCP2133 consists of a black, scratch-resistant, powdercoated metal frame and black tempered safety glass shelves. Assembly is a breeze—no tools required.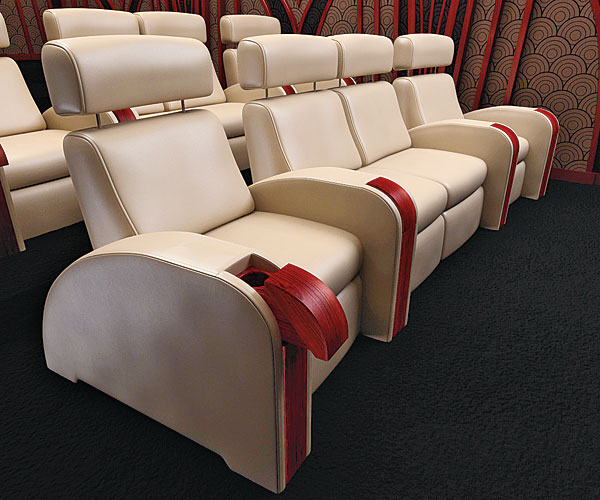 The Sweet Escape: Elite F Series Theater Chair ($4,750 to $5,700)
Elite understands what a theater chair is and what it's supposed to do. In response to the uncomfortable experience moviegoers have to endure at their local Cineplex, the company has developed a line of ergonomic theater chairs specifically designed and engineered for home theater viewing. The main goal is to allow viewers to fully engage in what they're watching and provide a sense of escapism. The Elite F Series features motorized reclining capabilities, slide-out cupholders, and is available in Valentino Leather, Silk Leather, Cine-suede and Patterned Fabrics, or the customer's chosen material. Elite's Website offers a simple process so you can customize your selection.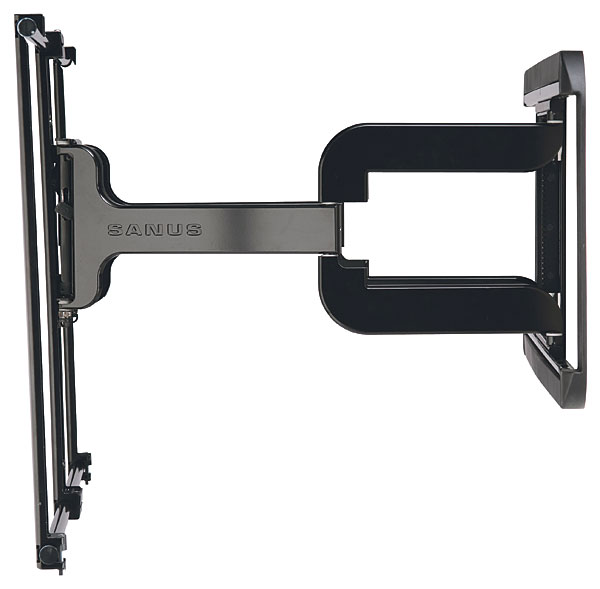 Slim Pickins: Sanus VLF320 Super Slim Full-Motion Mount ($400)
With the Sanus VLF320 mount, you can place your 37- to 70-inch flat-screen TV as close as 1.23 inches from the wall—but it definitely doesn't have to stay there. The ultrathin mount extends 20 inches and includes full-motion capabilities. Its fingertip-tilt technology allows easy angle adjustment with the touch of a finger. Unsightly cables can be hidden away via an integrated management system that is located in the extension arm. The VLF320's finished appearance and decorative cover also conceal assembly and mounting hardware. Once your TV's mounted, ensure it is positioned perfectly with the VLF320's post-installation leveling adjustment.
Liftoff: Chief SL236 Smart-Lift Automated Projector Lift ($3,999)
Chief's SL236 automated projector lift is available for fixed and dropped ceilings and can accommodate projectors up to 35 pounds. Its extended downward travel is 36 inches and includes three stopping positions. You get two internal outlets, one that switches on 110-volt units. The SL236 offers exceptionally smooth and quiet movement, fits most installation requirements, and needs only 11 inches of clearance above the ceiling.
Keep Your Options Open: OmniMount Verona 55FP ($600)
Not sure if you want to mount your flat screen or mate it to a floor stand? The Verona 55FP from OmniMount gives you options. Designed with versatility in mind, it can be used as a separate video rack and mount or as a stand for flat-panel TVs from 42 to 55 inches and up to 100 pounds. As a floor stand, the Verona 55FP pans 30 degrees left and right to adjust your viewing angle; when mounted, its profile is 1.38 inches. The semi-enclosed, curved-edge structure—which comes in high-gloss black with black glass—aids in hiding various components.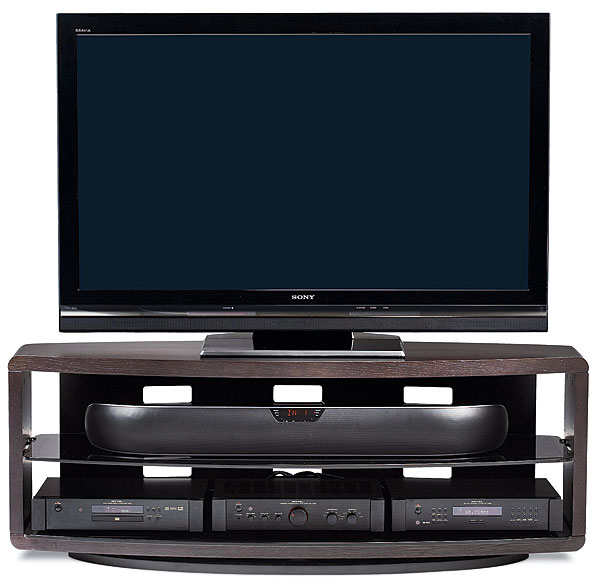 Out in the Open: BDI Valera 9729 ($875)
For those who'd rather not hide their components behind closed doors, BDI offers a beautifully crafted solution. The Valera 9729 is an open TV stand that consists of three shelves and provides a semi-enclosed appearance. The center tempered gray tinted glass shelf is adjustable and can hold a center-channel or soundbar speaker. The back panel includes integrated wire management to keep cables neatly organized. The Valera 9729 is available in Chocolate Stained Walnut, Natural Stained Cherry, and Espresso Stained Oak finishes and can hold flat panels up to 64 inches.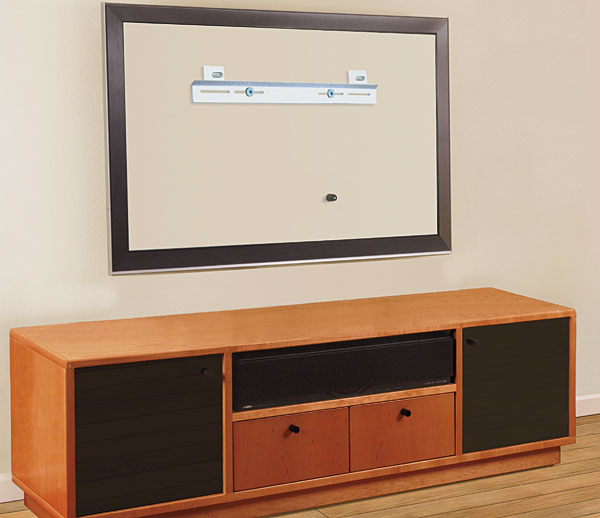 Simply elegant: Cleat Mount ($50)
The Cleat Mount offers a uniquely simple, cost-effective solution to mount your flat-screen TV. The system consists of an aluminum wall rail, industrial-strength Velcro, a 1-inch wall bumper, and two TV wall cleats. When mounted, the TV wall cleats attached to the back of your flat screen bond with the wall rail cleats. This process utilizes the company's cleat lock design, which features powerful Velcro fasteners. The Velcro and rubber wall spacer work together to minimize wall vibration. Pivot the TV forward to access side HDMI inputs. The Cleat Mount's load rating is 75 pounds for 32- to 55-inch TVs, and it's even been UL tested.
Angle It: Salamander Designs Geneva Twin 329 Corner ($1,799)
Sometimes it just makes the most sense to position your flat screen in the corner of a room. The Geneva Twin 329 cabinet—part of Salamander Designs' Chameleon Collection—combines art and technology to create this Shaker-inspired classic. It includes four shelves (two adjustable, two fixed) and removable rear panels for easy access to components. The center segment features a speaker opening with a removable grille, which is designed to hide a speaker. Additional features include a pull-out media tray, built-in ventilation louvers, and soft-close doors. The Geneva Twin 329 comes in Medium Walnut and is recommended for TVs up to 46 inches.
ATool(less) Time: Sanus Basic Series BFV348 A/V Stand ($400)
You've brought home the perfect cabinet to house your components—and now the box is sitting there in the corner of your living room ready for you to painstakingly piece it together. There's no need to avert your eyes from the unwanted eyesore day in and day out with the Sanus Basic Series BFV348 A/V stand. It's so quick and easy to assemble, you won't even need to crack open your tool kit—not even for a screwdriver. The BFV348 features removable back panels for quick and easy access to components, a vented, adjustable shelf to maximize airflow to equipment and accommodate equipment of varying heights, and a distressed black finish for a classic, lived-in appearance.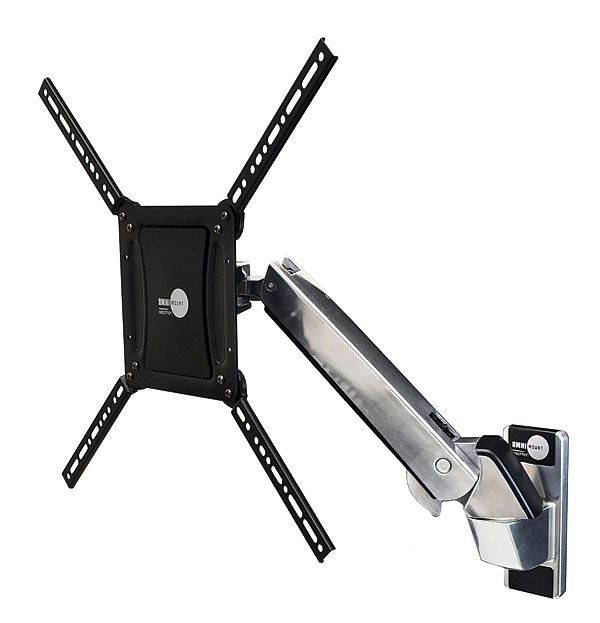 Paranormal Interactivity: OmniMount PLAY40 Wall Mount ($400)
Over the course of a weekend, your TV might be used for interactive gaming, floor-based workouts, or to entertain a group of friends milling about your home. The OmniMount PLAY40 has the ability to follow each one of these activities and provide the best possible viewing angle. While a lot of full-motion mounts can only adjust horizontally, the PLAY40 adds in the ability to move vertically up and down. Able to pan 180 degrees, the screen can be tilted with the lightest touch. The Play40 supports TVs up to 40 pounds and 55 inches and might even be helpful in some fireplace installations to temporarily lower the TV for more comfortable viewing. A version for 60-plus-inch TVs is expected soon.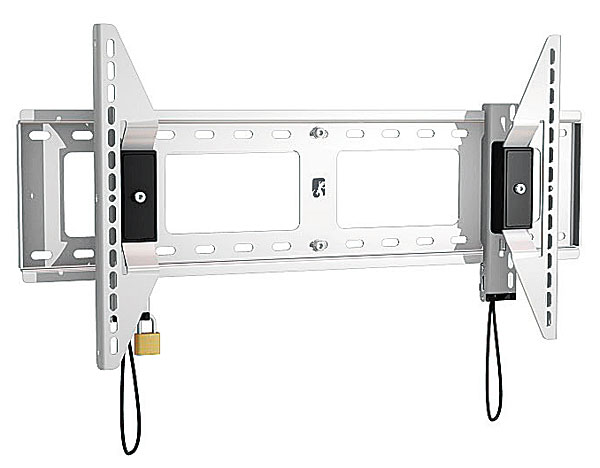 Flex: Salamander Flexo 100 Large Wall Mount ($149)
The Salamander Flexo 100 comes with two brackets so you can mount it in a fixed position close to the wall or with a 15-degree-angle upward and downward tilt. Its advanced click system and Lift-n-Load design make mounting safe and easy for flat-panel TVs 32 to 60 inches. You get precise, tool-less screen adjustments with the company's ZeroForce tilt mechanism and a pull-cord release system for seamless TV removal. Extension wings (included) aid in vertical adjustment and greater TV compatibility. The Flexo 100 is finished in Silver or Graphite Black.