Weatherproof TV: SunBriteTV's SB-4670HD Shines Again
Over the years, I've written a lot about outdoor audio and video. Today, most of the people I talk with know about outdoor speakers, especially the portable Bluetooth type—although it's generally the small, water-resistant models that they think of. (They'd be so much better off with the
Soundcast Melody
. It's $399, but I have yet to find a portable, outdoor speaker with Bluetooth that sounds and looks anywhere near as good. Two years after it was introduced, it's still the best of the portable outdoor bunch.) A smaller number of people know about outdoor speakers that can be permanently installed under the eaves of your home, on a back patio, or around a pool. Some have even heard about outdoor speakers that look like
flower pots
,
rocks
,
landscape lights
, or, sometimes,
lifesize dogs
,
slightly larger-than-life-size frogs
, and even
angry Tiki heads
. But when I mention outdoor, weatherproof TVs—if they're still talking to me—people either blankly look at me like I've just said something in broken Klingon or they say, "Really? They make those? That's cool."
So, if you didn't already know weatherproof TVs exist, welcome to the future (and past) of outdoor entertainment. There aren't that many companies making weatherproof TVs, and you won't find the big names—Samsung, Sharp, Vizio, LG, and Sony, to name several—bothering to expose themselves to this environmentally challenged category of AV gear. Instead, when looking for an outdoor TV, you'll encounter a more-limited number of mostly unfamiliar brands: SunBrite TV, Seura, SkyVue, and Peerless-AV.
Before the Mayan-calendar-predicted apocalypse in 2012, I reviewed a 46-inch outdoor TV from SunBrite TV. SunBrite TV claims to have "successfully launched the world's first true outdoor television" back in 2004, and it was obvious that the company had quite a bit of experience engineering outdoor TVs. The image the set produced was exceptionally bright and quite watchable in the daytime, even under a sunny, cloudless sky. Although the 4660HD's heavy-duty ABS cabinet was near indestructible, it was bulky and heavy. The picture quality wasn't on par with what you'd get from an equally pricey ($2,795) 46-inch indoor TV, but videophile performance isn't what having an outdoor TV is all about. For a TV that was waterproof, snow-proof, ice-proof, insect-proof, and (for the most part) impact-resistant, I thought SunBrite TV's 4660HD was an outstanding value for a TV that was going to stand outside.
Not long ago, SunBrite TV shipped the company's latest 46-inch outdoor TV to me for evaluation and comparison with my previous SunBrite TV experience. The new set, the SB-4670HD, is $100 more expensive ($2,895) than the model it replaced. That hundred bucks, however, shrivels to insignificance when the SB-4670HD is compared with its predecessor, the 4660HD.
How's this for shriveling? SunBrite TV shaved off close to three full inches of depth with the SB-4670HD. Where as the 4660HD was chubby 6.68-inches deep, the SB-4670HD is a slender 3.74 inches in depth. The diet that SunBrite TV put the SB-4670HD on also helped it shed a whopping 17 pounds—from 65 to 48. Not to be cruel, but the cosmetics of the older 4660HD were, ahem, unpicturesque. The SB-4670HD looks as good as nearly all the non-weatherproof flat-panel TVs you'll see on store shelves.
The picture quality of the SB-4670HD doesn't match that of a $2,900 indoor TV—it's definitely not 4K, for example. The panel's resolution is 1920 x 1080 Full-HD 1080p with a 60 Hz frame rate and a 4000:1 contrast ratio. However, as with the 4660HD, you can't expect to get your indoor TV image quality cake and eat it outdoors, too. You could, of course, buy a $2,900 not-at-all-weatherproof 46-inch TV and hang it outside. If you want it to continue working after the first thunderstorm, though, it'll cost another $2,000 for a high-quality weatherproof enclosure (with thermostatically controlled fans) like this one from Peerless-AV. (See below for the cheapskate's version.)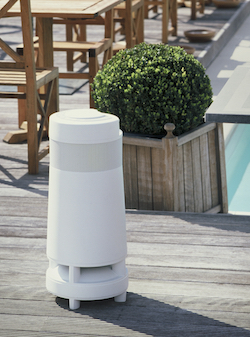 The SB-4670HD's built-in two-way speakers (rear-firing mid/bass drivers and side-firing tweeters) are better than what you'll find in most TVs nowadays, regardless of the price. That's not saying much, of course. The speakers are adequate for small outdoor areas, especially if the SB-4670HD is mounted on a wall; but if more than three or four people are going to be watching the set, I'd recommend using separate outdoor speakers. I've found that one of Soundcast's larger weatherproof speaker systems, the Outcast, is a perfect, super-easy add-on thanks to its wide dispersion, excellent bass response, and built-in rechargeable amp. At $899, it might seem pricey, but remember that it's a complete speaker system—in other words, speakers (including an eight-inch woofer), amps, and power supply—that you can pick up and move anytime. (You could even take it on vacation and use it on the beach.)
The bottom line is that I thought the 4660HD was an impressive outdoor TV. But if you didn't know outdoor TVs existed when the 4660HD came out, that's okay because the new SB-4670HD is twice as impressive. An outdoor TV isn't something you'll use every day. When you have one, though, you'll find yourself coming up with excuses to go outside to watch TV. ("Oh, look, I accidentally made a big batch of popcorn. I guess we'll all have to go and watch a movie on the outdoor TV…") SunBrite TV's SB-4670HD is such a great outdoor TV that you might find yourself running out of excuses and finally have to admit that it's just plain fun and enjoyable. If you have an outdoor space that's perfect for a TV—and the cash to spare, of course—SunBrite TV's SB-4670HD is a highly recommended way to fill it.
What's an Outdoor-TV-Lovin' Cheapskate Supposed to Do?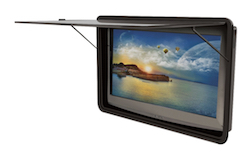 Having an outdoor TV is a lot like sex and cocaine. It's impossible to accurately describe the feeling to someone who's never experienced it—and it's highly addictive. But if you're like me (and I feel sorry for you if you are), you don't have $3,000 to casually plunk down on the counter for an outdoor TV, not to mention the additional costs for mounting hardware and installation. Wouldn't it be awesome if there were some cheap, do-it-yourself way of having an outdoor TV?
As I mentioned earlier, you can take just about any flat-panel TV and use one of Peerless-AV's weatherized enclosures to protect it. I'm familiar with Peerless-AV's gear, so I feel comfortable mentioning it here—but still $2,000 just for the enclosure. While researching prices and availability of various items for this story, I came across The TV Shield, which is "a weatherproof and secure enclosure designed for use with just about any standard television". A TV Shield model with one fan that's designed for TVs from 40- to 50-inches in diagonal has a retail price of $769.95. Slap a $500 46-inch Vizio smart TV in there, and you've got a nifty, outdoor TV setup for under $1,300.
Before you run out and start measuring how much space you have, there are some caveats to consider. First of all, a TV designed for indoor use may be dim and unwatchable in the daytime. After that, a TV mounted in a one-size-fits-a-lot, generic enclosure won't have the most pleasing aesthetics. Another thing to consider is that if the TV does suffer some sort of damage due to the elements, it won't be covered under the TV manufacturer's warranty. Finally, the combined weight of the enclosure and TV will almost certainly be more than the weight of a TV specifically designed for outdoor use. It's not the solution for everyone, and I still would recommend an outdoor TV over an indoor TV in a weatherproof cabinet. But if you can live with the caveats listed above, it could be a good way to fit an outdoor TV into your budget.