Streaming in 2014 — Growing Services, Shrinking Dongles, and Net Neutrality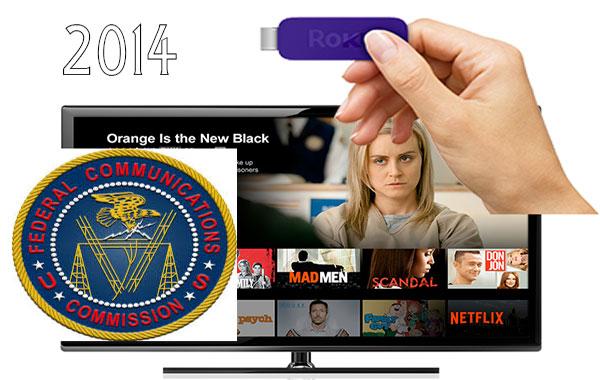 The past year has proven that media streaming is a mainstay in the way we get our entertainment, both now and in the future. Revenue from movie streaming increased by 26 percent over 2013 numbers (according to the
Variety
website). Online streaming's growth is causing traditional content providers to take notice. TV networks, cable and satellite providers, and movie studios are creating new ways to get in on the streaming action. Internet providers are looking to profit from the increase in streaming traffic by charging companies like Netflix for fast-lane access to their customers. Net neutrality rulings are being debated just as newly launched 4K video and hi-res audio require more bandwidth. And while the number of streaming services is growing, the physical size of media-player hardware is shrinking.
Live TV networks and cable services are taking the threat of cord-cutting seriously. They seem to be taking an "if you can't beat 'em, join 'em" attitude. CBS launched All Access streaming, a subscription service that streams full episodes of its current and old classic TV shows. Both HBO and Showtime announced that they will be launching stand-alone, subscription-based, online streaming services for which users will no longer be required to also subscribe to the cable channel.  TV providers are adding streaming apps to their set-top boxes. The DISH Hopper recently added a Netflix app. Lines between traditional TV and online streaming are blurring.
Movie studios are also succumbing to the online streaming marketplace.  The window between theatrical release and online rental has been shortened. There are rumors that the political threats surrounding the release of Sony's The Interview were a publicity stunt: The movie was available online at the same time it was released in a select number of theaters.  Along with ticket sales averaging over $3,000 per screen, it is estimated that the movie was rented or purchased more than 2 million times in the first 48 hours. This may pave the way for an increase in simultaneous online and theatrical releases in the future.  
Amazon got serious about media streaming in 2014 as it both beefed up its streaming services and launched a media player. The company made an exclusive deal to allow past seasons of popular HBO shows available for free streaming to those who pay a $99 annual fee for a Prime membership. Later in the year, Amazon added free music streaming for Prime customers. In April, Amazon released the Fire TV with advanced voice search to stream all of this new free content, followed by the Fire TV stick (an HDMI dongle version of the media player) in November. 
The popularity of the Chromecast dongle in 2013 led the way for more manufacturers, such as Amazon, to get in on the HDMI dongle market. Roku had previously launched an HDMI stick that worked with Roku Ready (MHL-compatible) TVs, but this year released an HDMI version that could be used on any TV. Walmart began offering a Vudu Stick for streaming Vudu movies and Vudu apps—an aggregate of online video streaming apps. Newcomer Biggifi released its Android-based media-player dongle with advanced control features using Android phones or tablets.  
While a few media player models have used an Android-based operating system (including the Amazon Fire TV), it wasn't until fall 2014 that the Nexus Player—the official "Android TV"—was released by Google. The company had announced that the new Android TV would have seamless integration with phones and tablets running the Lollipop Android OS, and would have optimized Android TV apps. Yet it was a slow start. As of this writing, there are few Android TV apps. Only the Nexus Phone and Nexus Tablet have Lollipop. It's anticipated that there will be an increase in the number of Android TV apps and the number of devices running the new Android version. But, if Google doesn't live up to its promises of integration, Android TV may take its place in the Google graveyard alongside Google TV. At launch, the Android TV isn't anything special and it lacks the best feature of Google TV—live TV integration and search. 
That type of search feature can be found in Samsung Smart TVs. When set up, it can use voice or text search to list titles available either on live TV or online. Samsung's HU8550 UHD TV is as smart as it gets. It can stream from any source you can imagine—DLNA media servers, computers, online cloud services, Android phones using Miracast, USB drives and numerous online services. It can stream UHD video directly from Netflix, Amazon and UltraFlix, bringing 4K resolution for improved picture quality.
Not only has movie-streaming video resolution improved, new companies are bringing hi-res audio to music streaming. As the holidays approached, two European HiFi streaming music companies landed in the US. Both Tidal and Deezer offer uncompressed hi-res music streaming. (Deezer is still only available in hi-res on the Sonos system.) Both offer a large library of music but not as large a selection of basic music-streaming services like Spotify, Beats, Google Play, and others. It may be a slow start, but should offer improved music quality to those with a discerning ear and high-end audio equipment. 
The problem is that 4K video and (to a lesser extent) streaming hi-res audio are bandwidth hogs.  A 4K video requires speeds over 15 Mbps for smooth, uninterrupted streaming. Add these bandwidth demands to the increased number of Internet users who are streaming from Netflix and other online services, and Internet providers are looking to charge more to companies who want "fast-lane access" to their customers. 
Most consumers don't want Internet providers to have the power to limit speed or traffic on some sites over others. Net neutrality regulations would ensure equal access to all websites and online services. In 2014 the debate continued with more comments from citizens (1.5 million and counting) than the FCC had seen since Janet Jackson's wardrobe malfunction at the 2004 Super Bowl (1.4 million comments). It's still up in the air, but the decision on whether or not to regulate Internet providers and stop fast-lane practices will have an impact on the shape of media streaming in 2015 and beyond.
If there is any question as to whether streaming has become mainstream, consider YouTube's problem this fall. There are now so many people streaming online video that it broke the YouTube views counter. The YouTube blog explained the problem, "We never thought a video would be watched in numbers greater than a 32-bit integer (2,147,483,647 views), but that was before we met PSY. 'Gangnam Style' has been viewed so many times, we had to upgrade to a 64-bit integer (9,223,372,036,854,775,808)!"