Stick a Fork In It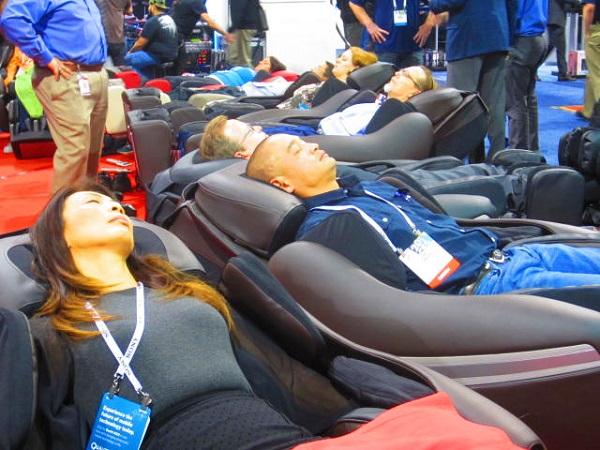 It's Friday. The International CES is winding down. As I pack my bags, I wonder how I'll ever carry on 100 pounds of earbuds and flash drives, as well as all the other flotsam of show coverage. All in all, it was a pretty good show. Some observations....
The CES is not an event. It's a journey. And I mean that literally. I keep forgetting to bring a pedometer, but I'm sure the distance would be about the same as walking to the moon. Or possibly Mars. Walking, lots of walking. Also a good deal of standing around. Standing in a line with a thousand other journalists waiting for the Samsung press conference. Standing in a taxi line with a hundred thousand other show attendees. Standing in a line and queuing up to stand in another line. On the other hand, the buffet lines are well worth it. Everything you've heard about Las Vegas buffets is true.
The CES features lots of show girls. Not the feather/sequins girls who work in casino shows. I'm talking about the wholesome/hot girls who are hired to work the show booths. They are young, attractive, and often dress provocatively. In otherwise corporate-styled booths, they add a considerable bit of interest. I don't mind this one bit; I am a guy. But in today's environment, it's a little weird. The girls, although sometimes very knowledgeable about the products, are essentially the equivalent of bright neon signs hung out to attract the attention of the predominantly male population trudging through the aisles. Commercially effective? You bet. Politically correct? Certainly not.
Old timers will recall that there used to be two CES shows - a winter show in Las Vegas, and a spring show in Chicago. Over time, the former eclipsed the latter. Somehow that seems inevitable. A show like this has to be in Vegas. That's because the show is about wagering - wagering on whether your new product will be a hit, a dud, or somewhere in between that will at least let you operate at a small profit margin. So companies come here and their marketing departments spend a lot of money to show what the R&D departments have been spending money on. They all think they can leave a winner. It's Vegas, baby. It's Vegas.