Star Trek The Next Generation: The Next Level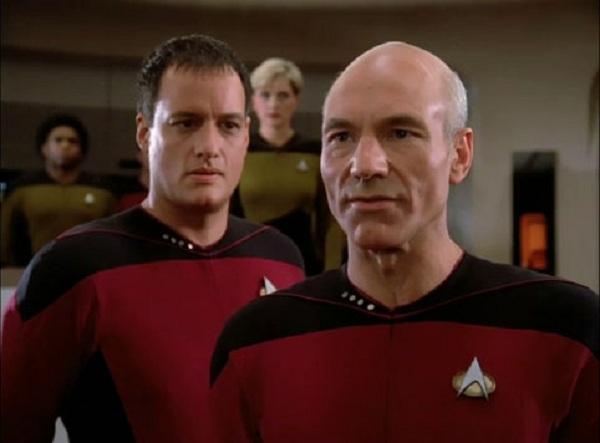 The video quality of
Star Trek The Next Generation
has never been very impressive, either during its original broadcast days, in syndicated reruns, or on DVD. High-definition displays only make things worse, but all is not lost. Like the original series,
The Next Generation
was shot on film, and that means its conversion to high-definition has always been possible as long as the studio was willing to recompose the standard-definition visual effects into HD. Thankfully, Paramount and CBS have decided to move forward on this project to bring Picard and company into the 21st century with outstanding results.
This teaser disc includes three episodes, Encounter at Farpoint, Sins of the Father, and one of my personal favorites, The Inner Light, and the results are magnificent. The multi-colored Star Fleet uniforms leap off the screen, and the detail is out of this world, especially on the exterior shots of the Enterprise. The DTS-HD MA 7.1 audio tracks are an improvement over the original stereo tracks (also included), but they aren't quite as demo-worthy as the video. If you're a fan of the series, this will certainly wet your appetite for the upcoming release of season one sometime later this year.
Encounter at Farpoint

Chapter 2, 00:02:20
Detail
The opening shot of the Enterprise as it travels through space highlights how much work went into the restoration. Check out the various colors on the hull and how legible the NCC 1701-D designation is. When the camera switches to Picard, you'll see the thin veil of grain fully preserved in the 1080p encode.
Sins of the Father

Chapter 4, 00:19:55
Shadow detail, detail
As Worf stands before the high council, check out the detail in his uniform and how distinct and clear the dimly lit background remains.
The Inner Light

Chapter 3, 00:13:58
Detail, color saturation
One downfall of the higher resolution is that the makeup on Data shows a lot of flaws. In this scene, you can see how unnatural it looks, but on the plus side, Riker's red uniform pops off the screen.
Release Date: January 31, 2012
Studio: Paramount/CBS