Soundcast Outcast all-weather wireless speaker system Page 2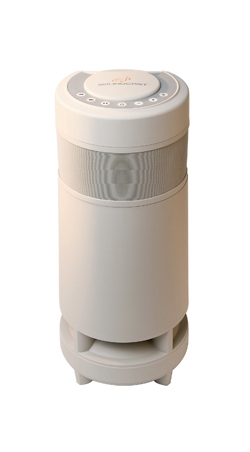 The Outcast's wireless speaker is a streamlined cylinder with little in the way of controls or information displays.
PERFORMANCE
The OutCast speaker offers little in the way of information feedback; basically, it's either on or off. When it's powered up, a green light indicates that the speaker is indeed on, and the light turns blue once the speaker has locked onto the iCast's signal. This process is automatic and takes about 2 seconds. A blue light on the transmitter also confirms that it has found the speaker. Besides volume up and down, there are some transport buttons on top of the speaker (play/pause, track skip forward and back) that control an iPod docked in the iCast. All click-wheel controls are functional while the iPod is docked, letting you browse and select tunes from your music library. Granted, a full-blown two-way interface would be more useful, but that would also significantly increase the price of the system.
As mentioned before, the OutCast speaker has a minijack input for connecting a local source, and the cabinet's handle doubles as a place to set your portable player. This means that, beyond its use at home, the speaker itself can be called into duty in any outdoor setting. It's the perfect companion for camping or beach trips, not just because things are apt to get wet and dirty but also because it's self-sufficient when there's no ready access to a power source for connecting the iCast transmitter. The speaker's minijack connection lets the good times keep rolling, whether from an iPod or a Zune or, just as perfect, a portable XM or Sirius tuner.
The speaker's only other "trick" is a button that kicks on some "mood lighting." I'm not sure what mood it creates, but the soft blue light would be useful in keeping people from walking into it and knocking it into the pool after enjoying one too many libations.
As I said at the beginning, I'm generally skeptical when it comes to wireless systems, as they never seem to live up to their claims for distance or reception. Soundcast says that its system will transmit signals up to 150 feet through multiple rooms indoors, and up to 300 feet outdoors. Since my entire house isn't 150 feet from end to end, I couldn't fully check that claim, but I can say that the OutCast system did beam tunes from one side of my house to the other. It also broadcast from inside my house to every inch of my property, including down the driveway and across the street into my neighbor's driveway! Wireless range was outstanding, and the signal never once dropped out or crackled from interference.
Soundcast says that it has developed a unique frequency-hopping technology that prevents transmitted signals from being distorted by outside interference. The company has definitely hit on something. My home has two Wi-Fi access points, a cordless phone, and a microwave oven, and none of them gave the OutCast system so much as a hiccup.
Battery life was nothing short of amazing. I expected the speaker to run for several hours, or just enough for an afternoon barbecue party. But it soon became a test of endurance to see which would last longer, the speaker's battery or me. In the end, the battery won by a landslide. My system played for more than 16 hours (nearly 240 songs) on a single charge!
The speaker puts out plenty of volume, and it will certainly fill your backyard with sound. As it nears the upper volume limits, however, the small drivers start to strain and the audio becomes brash and distorted. But this is at levels that would make it difficult for anyone within a 15-foot radius of the speaker to have any kind of conversation. The sound quality in general resembles the classic smiley-face EQ curve from the past: big lows and big highs. Yet this actually works in the speaker's favor, as sounds can be easily lost outdoors, and this kind of EQ gives the OutCast more punch. Placing the speaker on my wooden deck also produced a terrific tactile sensation, as the bass traveled through the wood boards and into chairs.
While I can't really comment on endurance, I did attempt to check out the "all-weather" claim by leaving the speaker outside. During that time, it endured several near-100°, high-humidity South Carolina summer days, and it also sat through a couple of afternoon showers. So far, so good.
BOTTOM LINE
As both a reviewer and an installer, I find it so refreshing to get a product that works exactly as promised. The OutCast system did everything it was supposed to do. The wireless range and battery life are outstanding, and the system puts out enough sound to fill your backyard with tunes. If you're looking for a simple way to add music to an outdoor living space, or to remote parts of your home where retrofitting wiring isn't possible, the OutCast won't leave you stranded.