Sooloos Nips at Kaleidescape's Heels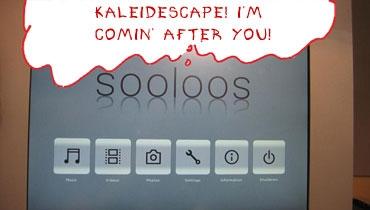 Regular readers know I'm a nut for media servers, especially ones capable of managing and streaming DVD movies around the home. Not too long ago, if you wanted to enjoy this awesomeness, you were pretty much limited to the pricey Kaleidescape system. Yes, Kaleidescape -first to market - totally nailed the experience and delivered a system that still stands head and shoulders above the rest. And with each successive software and hardware upgrade, Kaleidescape continues to stand atop the server mountain, looking benevolently down on its kingdom.
But walking the show floor, I've run across several manufacturers who have entered this once legally sensitive space. Companies like Fusion Research, Escient, Axonix, AMX, Colorado vNet, and ReQuest are all displaying systems capable of delivering a movie streaming experience.
Two years ago at this very Expo, I discovered Sooloos in a small downstairs area. They were displaying a system that so beautifully handled music, I was instantly enamored.
Now, Sooloos has added the ability to handle your photos and movies too, making it the first serious challenger to Kaleidescape's throne. A 4-Terabyte system, with touch panel, four zones of music, and one zone of movies is expected to debut in December for around $16,500.
Sooloos has assured me that I'm at the top of their review list, so expect a full report in a future issue. Until then, click the image above to launch the gallery.
LATEST VIDEO