Sookbox Streaming System Available on Kickstarter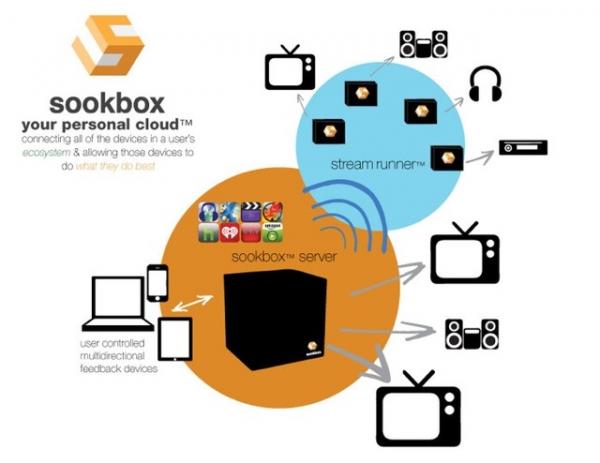 If your home is wired for distribution of audio and video and you have a few rooms to which you want to stream media, you may want to take a look at Sookbox. Sookbox has begun its Kickstarter fund-raising campaign offering its streaming media system for pre-order. The system includes a Sookbox BDS or Sookbox MS media server, Stream Runner media players, and a smartphone or tablet media controller app.
The setup sounds like many Digital Living National Alliance (DLNA) certified devices that uses a controller app (media controller) to send video or music from your media library (server) to a TV or media player (media renderer). The difference in this Sookbox system is that the controller can send media from online streaming services like Hulu or Amazon, along with videos from any websites, and media saved on your home network. Unlike DLNA devices that stream from one source to one device, the Sookbox can simultaneously stream from its server to more than one TV or AV receiver. In this way, it appears similar to the Sonos music streaming system that can stream to a number of zones and is controlled by a single app or remote (Sonos, however, works differently by creating its own wireless sub-network and does not have a server).
Kickstarter allows companies to pre-sell products to raise money for manufacturing. Sookbox has launched its Kickstarter funding campaign with the goal of raising $200,000 to be used in manufacturing their media server and streaming devices. The Kickstarter project offers you a chance to get one of the first Sookbox devices for less than its final retail price, and gives you the satisfaction that you've helped make Sookbox become a reality.
The Sookbox BDS ("Big Daddy Server") can hold two terabytes of media and is run by powerful computer. It has four HDMI outputs to connect directly, sending video to four zones at once. Sixteen audio outputs stream music to multiple zones. The BDS can also stream wirelessly to the Stream Runner media player devices. This server is best suited for businesses or seriously big houses with whole home wiring. The Big Daddy is being offered for $1500 for the first 25 people to order it. Another 75 will be sold at $1750, and 200 more at $2000.
The Sookbox MS server is less powerful and doesn't have built-in memory. Instead, it has a USB port to connect an external hard drive that has your media library. There is only one HDMI output and one 3.5mm audio out so it can be connected directly to your home theater. Like the BDS, it can simultaneously send the same (or different) media wirelessly to Stream Runners while playing on the connected TV and/or AV receiver. The MS can be pre-ordered for $175. Another hundred dollars will add two Stream Runner media players.
If you want a small media streamer to connect to your TV, you can get a stand-alone Stream Runner for $65 or $75. While the Stream Runner is meant to work with the Sookbox servers, the company is working on a "stand-alone" device that can stream from other sources. The unique feature of a Stream Runner is its ability to stream from your home network when you are away from home.
Like other Kickbox projects, you can support the company without committing big bucks by pledging $2 or buying a T-shirt for $25. I'm looking forward to getting my hands on a Sookbox system to see how the MIT graduates have come up with a "smarter" solution for aggregating and streaming media. If the fund-raising campaign is successful, products are scheduled for delivery in December 2013.
LATEST VIDEO