Sony KDS-R60XBR1 60-inch SXRD HDTV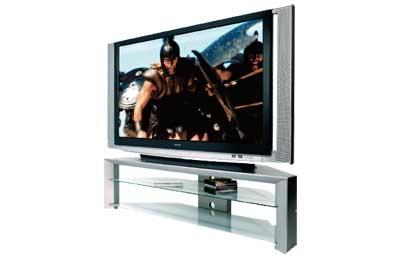 What We Think
With its deep, inky blacks and sharp detail, this HDTV excels in most areas of picture quality.
Things change fast in the world of HDTV. Take Sony's line of SXRD rear projectors. Less than a year ago, I reviewed the $13,000
70-inch Qualia 006
, bemoaning its high price as much as I lauded its stellar picture. Six months later, Sony introduced two new affordable SXRD big-screen TVs, including this, the 60-inch KDS-R60XBR1. In the process, the company shed 10 inches of screen and a whopping $8,500 off the price of the 006. That would be something by itself, but what's more remarkable is that Sony did it without shedding picture quality in this HDTV or its smaller sibling, the
50-inch KDS-R50XRB1
.
Silver, gray, and black are pretty much the only acceptable colors for an HDTV's exterior, and the Sony KDS-60XBR1 incorporates all three in its attractive look. The screen is set amid a glossy black frame, and a pair of suspended speakers extend a good 5 inches beyond the frame - making it exceptionally wide for a 60-inch set.
I liked the solid feel of the brushed-metal remote, especially the big cursor control, but I would have appreciated better differentiation among keys as well as some kind of illumination. The friendly menu system offers many options but never feels overwhelming, thanks in part to context-sensitive text explanations that accompany your selections.
SETUP Sony populated the back panel with a herd of connections for even the most complex home theaters - notably, a pair of HDMI inputs, two DTV Link-compatible IEEE-1394 jacks, and a computer input. Like most current 1080p HDTVs, the KDS-R60XBR1 can't accept 1080p sources, though Sony has said its next-generation SXRDs will do so to accommodate future Blu-ray Disc players. For now, though, most 1080p sets still look their best when fed 1080i HDTV signals, so I set my source components accordingly. I did notice slightly better sharpness and color when running my DVD player via its 1080i HDMI digital output compared with 480p component video.
The Sony's extensive menus offer all the tweaks, but people who'd rather spend their time just watching TV will like that the Pro picture mode is as accurate as any preset I've seen. All three picture modes will save any fine-tuning you do and remember settings for each of your source components.
I was thrilled to see an Iris control among the menu options - essentially a shutter for the projector's internal lens that can be turned down to the minimum setting to coax a deeper level of black from dark scenes. That involves a tradeoff in brightness, but I was willing to make it, given the total darkness of my home theater. By setting yet another menu option, Advanced Iris, to its High position, I got the blacks darker yet, though at the expense of even more brightness. While the picture was still plenty bright for my room, you'll probably want to use a different Auto position, such as Off, for viewing in bright rooms.