Sony KDS-R50XBR1 50-inch SXRD HDTV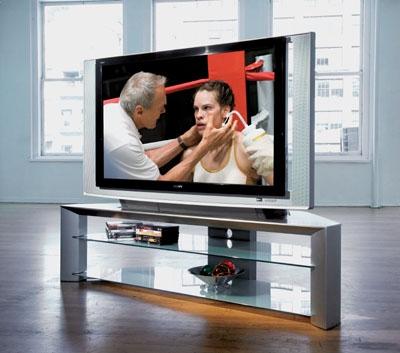 When Sony debuted its $27,000 SXRD (Silicon X-tal Reflective Display) front projector a couple of years back, my first thought after drooling over its fine, filmlike picture was: They'll really have something if they can get this technology into a TV that sells for a few thousand dollars. Well, that something has arrived: the 50-inch KDS-R50XBR1 is an SXRD-based rear-projection HDTV that lists for $4,000. And since good things come in pairs, it also has a big 60-inch brother, the $5,000 KDS-R60XBR1.
What We Think
Sony scores big in its effort to bring SXRD display technology to the masses. Great picture performance at a great price.
SXRD, which is Sony's unique spin on LCoS (liquid crystal on silicon) technology, received an in-depth treatment in our May 2005 review of the company's
Qualia 006
, so I won't rehash the details. But this set uses a new SXRD chip that shrinks the size of the panel from 0.78 inch (diagonal) down to 0.61 inch. Rather than sacrificing resolution, it delivers the same progressive-scan 1,920 x 1,080-pixel (1080p) pictures as the 006, but with an even finer pixel pitch than before (7 micrometers). The benefit is a completely seamless high-def picture, with no trace of the "screen-door" pixel grid that you often see in LCD HDTVs. As in the 006 and LCD rear projectors, three chips are used to transmit red, green, and blue picture information, which avoids the single-chip DLP "rainbow effect."
The other key refinement that Sony brings to its new SXRD models is an iris adjustment. This powerful feature, which lets you modify the light output of the TV's lens to enhance picture contrast, has shown up on some high-end LCD and DLP front projectors in the past year or so but is only just starting to make its way into rear projectors. Aside from that, the KDS-R50XBR1 is a sleek-looking tabletop set with a glossy black border framing its 50-inch screen. Its semi-detached, nonremovable speakers add several inches to the set's width - a point to consider if you're installing it in a wall unit.
The Sony offers a generous range of connection options, including multiple HDMI and i.Link (FireWire) inputs as well as VGA and component-video jacks. One i.Link input is located behind a flip-up panel beneath the screen - perfect for plugging in a digital camcorder. While it doesn't have a backlit keypad, Sony's thin, sturdy remote control has a clean layout. You switch inputs by toggling through them with the TV/Video button. The Wide button calls up a list of four display modes, with three choices - Full, Zoom, and Wide Zoom - available for HDTV channels.
SETUP After I connected an antenna, the Sony easily captured all of my local digital broadcasts. That included the ABC affiliate's digital channel, which I usually need to tune via an onscreen signal-strength meter - the one feature this TV lacks. The set's Twin View mode lets you watch two different high-def channels, or any other combination of sources, side by side in their original aspect ratios.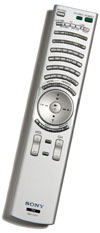 The Sony's vast store of picture adjustments makes setup something of an adventure. Each of the three video presets can be customized and saved for all inputs - a welcome advancement from previous Sony models I've tested. But basic picture settings like contrast and color are just the beginning. Besides a manual adjustment for the Iris control mentioned earlier, there's also an Advanced Iris function that automatically adjusts the iris to optimize contrast on the fly for the image being displayed. Meanwhile, the set's Warm color-temperature setting delivered a picture that pretty much nailed the NTSC color spec. It needed only slight tweaks to the red, green, and blue gain and bias controls - available in the Advanced Video menu - to bring it in.
LATEST VIDEO