Sony, Hacked, Attacks Back with 4K and More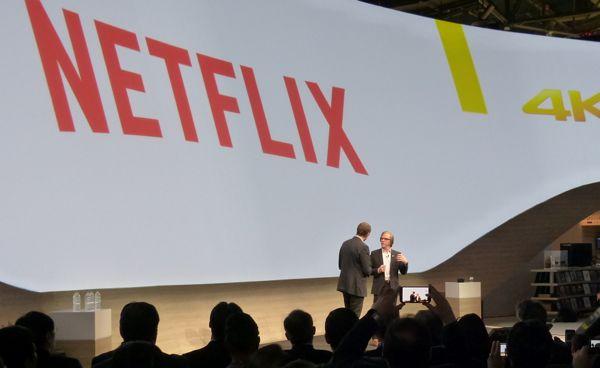 Sony's 2014 CES press conference was all about 4K. Sony's 2015 CES press conference was about...lots of stuff.
New products unveiled ranged from a high-res audio Walkman to Android smart watches that can control UHDTVs, but let's start with the elephant in the room. Sony CEO Kazuo Harai wasted no time addressing the recent (North Korean?) hack that derailed the December theatrical launch of Sony Pictures' The Interview. Lots of high-minded statements about freedom of expression, etc. No explanation, though, of the hedging that led president Obama to scold Sony for compromising American ideals by not releasing the film theatrically.
Sony's most significant announcements involved its PS4 platform and relationship with Netflix. PlayStation Vue is coming online in early 2015, giving PS3 and PS4 users access to live and on-demand programming from Fox, CBS, Viacom, ABC and others. The company is also working with Netflix to make High Dynamic Range content available for Sony UHDTV owners (the statement was worded in a way to indicate "exclusive") sometime in 2015. Sony UHDTVs will also soon be able to stream 4K content from Amazon Instant and YouTube.
Sony also announced a line of new products that fall under the heading of Life Space UX. This appears to be a serious corporate initiative, though the main product presented was a lamp that does double-duty as a speaker and uses a glass transducer to transmit high frequencies. More on Life Space UX when I get a chance to double back to the Sony booth.
There are new UHDTVs with TRILUMINOS tech in screen sizes ranging from 43 to 75 inches. These incorporate the company's 4K Processor X1 to upscale non-4K sources with "enhanced color, contrast and clarity." Sony's new ultra-thin X900C Series sets also provide edge-to-edge viewing. All of the new UHDTVs feature an Android TV OS, along with Google Play for streaming and Google Cast for "content throwing." Prices and delivery dates TBA.
Sony also announced a new 4K HandyCam that will be priced at $1,000. ("4K for 1K.") Digital cinema — now in the hands of the masses. It's also in the hands of extreme sports enthusiasts: The second half of Sony's press conference was dedicated to famous skateboard dude Tony Hawk, live and in-person, showing 4K-res videos of the wild things he can do on land, sea, and snow. Let's hope Hawk's antics don't further increase tensions with Pyongyang.