Sony Finally Unveils Their Google TV-Equipped HDTVs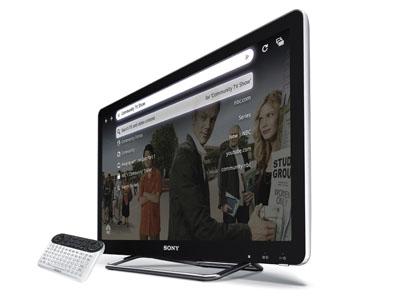 Sony has finally drawn the curtain from its Google TV-powered product line. In a press conference today in New York, the company announced the Sony Internet TV, a series of HDTVs equipped with Google TV connectivity features. The Internet TV products use Google's Android OS and Chrome web browser, and are powered by an Intel Atom CPU, making them effectively web-surfing computers with integrated HD screens. They come with a number of streaming media apps, including Netflix, Youtube, Napster, and Pandora. Starting next year, the Internet TV products will also be able to download Android apps through the Android Market.
The Internet TV products can integrate with Dish Network boxes, letting users directly access their programming guides and DVRs through the system. They all include new radio-based remote controls that feature QWERTY keyboards, a mouse cursor navigation pad, and several home theater interface buttons, and IR blasters let the remotes function with other home theater devices.
Sony's Internet TV line includes 4 HDTVs and a Blu-ray Disc-playing set-top box. The HDTVs will be available in 24-, 32-, 40-, and 46-inch versions for $599, $799, $999, and $1,399 respectively, and the set-top box will be available for $399. The HDTVs and set-top boxes will be available from Sony Style stores at the end of the week, and from Best Buy stores on the week of October 24.