Sony Bravia KDL-40XBR2 40-inch LCD HDTV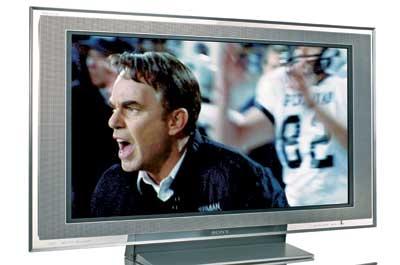 Sony used to be king of the direct-view TV biz, churning out high-performance tube sets for which discerning viewers happily paid extra. Tubes have since given way to flat-panels, but the company has once again managed to scale to the top of the TV heap, persuading image-conscious consumers to fork out a premium for LCD sets branded with the company's venerable XBR tag. At $3,500, the 1080p-rez Sony Bravia KDL-40XBR2 40-inch LCD HDTV costs nearly twice as much as some LCD and plasma TVs in the same size range. But can it crush them on performance?
With its screen surrounded by a silver bezel and glass and aluminum edging, this Sony has the design part of the equation down. It looks like a swanky electronic picture frame - which it basically is. Many other flat TVs have speakers beneath the screen, but Sony put theirs on the sides. This widens the set several inches, but allows for good-sized speakers, and I could turn the sound up very high before it started to get shrill.
A smattering of controls can be found on the Sony's right-hand side. On the left, there's a convenience HDMI input. If that seems like overkill for a side panel, consider that the company's newest high-def camcorder features an HDMI output, as will a version of the forthcoming PS3 game console. Two additional HDMI inputs are located on the back, along with dual component-video jacks and a VGA port for a computer. And there's also an RF jack to take advantage of the TV's digital tuner.
The clean layout of Sony's sizeable remote control makes it easy to locate specific controls in a dark room. A good thing, too, since its keypad isn't backlit. Most important buttons orbit around a central navigation rocker. Repeatedly pressing the TV/Video button switches among sources. With a total of nine inputs, that could be time-consuming, but you can blank out unused inputs in the setup menu. You switch among display modes with the Wide button; the choices are Normal (4:3), Full (16:9), Zoom, and Wide Zoom, all of which can be selected for either standard- or high-definition programs.
LATEST VIDEO