Come Fly With Me: Sonus faber's Super Sexy sf16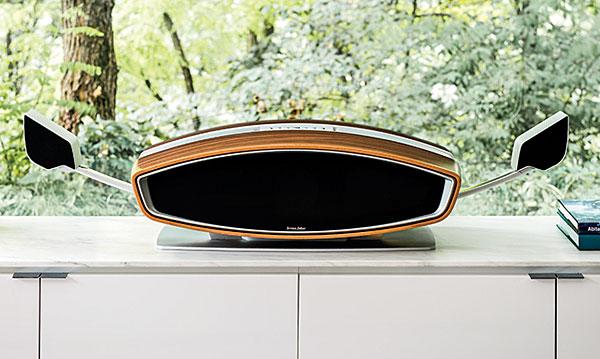 I was immediately drawn to the sf16's neofuturistic styling. Its gentle curves reminded me of the iconic TWA Flight Center at New York's JFK Airport—an aeronautic theme sustained by wing-like sound pods that sprout on command. Unusual and unique.
The idea of satellite speakers protruding from a central unit isn't new. The sf16 is based loosely on the da Vinci–inspired Snail speaker system (pictured above) designed by Franco Serblin in 1980, three years before he founded Sonus faber. But unlike the super-sleek sf16, the all-wood Snail was a bit of a monstrosity with bookshelf-speaker-size satellites mounted on adjustable arms—not exactly compact.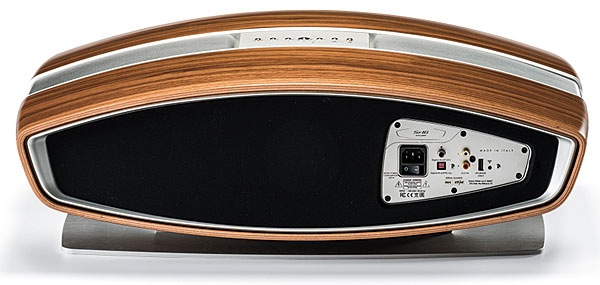 Sonus faber calls its first self-contained music system an "elegant piece of furniture with a deep luxury appeal." I won't argue. The finely appointed wood/aluminum cabinet is packed with technology, starting with robust amplification ("1,400 watts total at 4 ohms") and six speakers, including opposing 5-inch woofers: one front facing, the other rear firing, an alignment chosen specifically to eliminate cabinet vibration. Also competing for space inside the 25 x 9 x 16.3-inch enclosure are two micro satellites, waiting to be summoned to the outside world, and electronics that make possible wireless streaming via the app-based DTS Play-Fi platform, now embraced by more than 20 brands. In all, up to eight stereo Play-Fi devices can be linked for wholehouse streaming.
The system supports lossless CD-quality streaming and supports a variety of file formats and streaming services, including Amazon Music, Deezer, iHeartradio, KKbox, Pandora, Sirius XM, Spotify, Tidal, and thousands of internet radio stations. Connect to any standard Wi-Fi network, and you're in business. Around back, there are coaxial and digital inputs as well as analog inputs for wired hookups.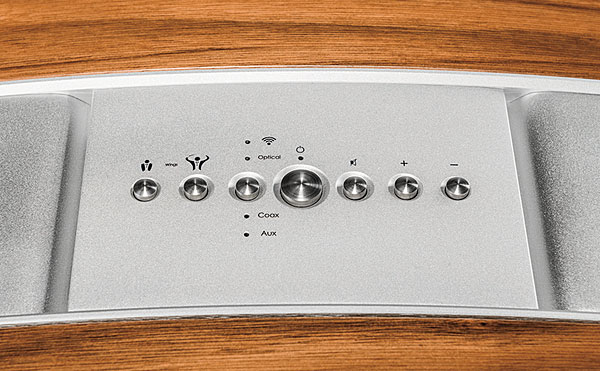 Of course, the magic begins when, at the press of a button, those tiny satellites reveal themselves, emerging gracefully from either side of the sf16; press the button again, and they extend further for maximum stereo separation. Apart from the wonder of watching satellites in motion, listeners are immediately treated to a soundfield that is more enveloping—not only because the speakers have extended out from the main unit but because each of them is actually two speakers in one with a midrange/tweeter complement firing forward and backward in dipole fashion.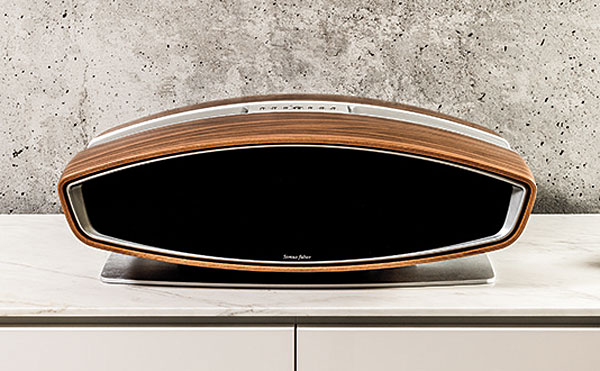 If you're inspired to act, the company plans to produce only a couple hundred sf16 systems a year. Even at that limited volume, they still stand to make a pretty penny when you consider each system costs around $12,000.