Solus Serves Up Entré II with H-PAS Bass Tech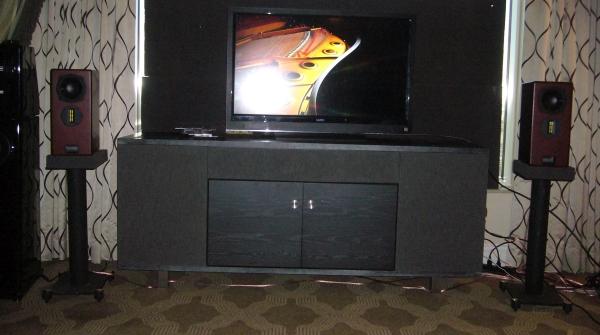 Solus Audio introduced a 5.2-channel system the size and shape of a desk at this year's CES. But though the StreamAV was present at the exhibit, the product actually playing was the Entré II monitor, which uses the company's H-PAS bass extension technology.
The previous Entré has just been updated to replace a one-inch titanium dome tweeter with a ribbon and a new impedance network, making it the Entré II. But the key thing is how the backwave of the 5.25-inch polypropylene woofer is routed through an ingenious multi-chambered structure to produce a high quantity and quality of low frequency response without the assistance of a sub.
"You can almost count the wavefronts coming out," said designer Phil Clements, and he wasn't far off. A pipe organ demo (what else?) not only offered extended pedal notes. There was imaging depth, tone color, and timbral nuance to the bass. You couldn't get a better pipe organ sound without being in the room with one.
Pricing for the Entré is $1799/pair.
Solus is also licensing H-PAS to Monoprice, which offers its K-BAS monitor for $249/each. Solus previously licensed H-PAS to Atlantic Technology for a tower and a monitor, which we reviewed. Note that all of these are totally separate products using different implementations of a common technology. Voicing and overall performance will differ.