Social TV: Myths, Facts and the Future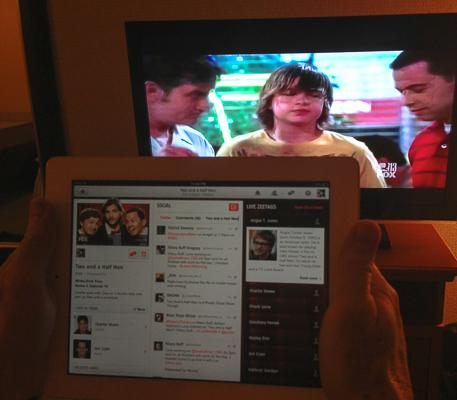 Social TV is becoming a part of the way we watch TV shows, but it isn't what TV networks and others expected. The Diffusion Group (TDG) has just released a study entitled "Social TV: Myths, Facts, and the Future." TDG does market research around digital media and in this paper, they explore the way people are viewing and discussing TV shows ("Social TV").
I spoke with Joel Espelien, Senior Analyst and author of the paper to discuss insights on his findings. "Seeing what other people think, and what other people's reaction is, is such a basic human psychology," he said, explaining the foundation of Social TV.
A number of networks and content providers had expected that a TV show's fan base would warrant creating an app where the devotees could discuss the show. They based this upon the viewers' reaction to Lost, where masses of fans would go online to discuss every detail of the show. The show was purposely confusing and mysterious and required discussion from other fans to simply be able to follow the action.
Referring to the content providers, Joel explained one of the myths of Social TV. "People thought that it (Social TV) was some kind of augmented viewing experience, that you would start syncing with shows," he said. "Even the idea of syncing with shows is the idea that you would turn the app on at the start of the show.
"And that's totally not happening. People are not syncing with shows. Number one, there isn't 60 minutes worth of compelling TV for a 60-minute show. There is maybe 2 minutes. So people's attention wanders other places as they multi-task. Our data shows that people spend a lot of time watching TV and just pure multi-tasking, Facebook, email, surfing the web on their tablets."
The paper clearly shows that most people are more interested in being part of a public conversation rather than chatting with a small group of friends while watching TV. And their preferred mode of communication is Twitter, which nearly doubled its user base in 2012. At the same time, people's participation in commenting on the presidential debates attracted 4 million uniques and generated nearly 28 million Tweets. Those people who started talking about what they were watching on Twitter seem to be continuing the conversations about other shows.
"Let's be honest," said Espelien. "What most people want is, if you get a big group of people, you get some people who are very clever. If you get a big enough room you'll get some very entertaining tweets."
People tweet most often during live TV. Sports, special events and reality TV shows are the most likely to bring out the social TV comments. Twitterers use hashtags(#) to allow for aggregation of feeds. You've probably noticed TV shows will display suggested hashtags to stimulate discussions on certain highlights of the show. Survivor changes hashtags frequently as new twists are revealed in the game. Eight million people watched the X Factor finale and 400,000 of those viewers tweeted about the show. TDG's study showed 5% of a show's viewers will engage in social TV.
Espelien discussed how the pattern of Tweets are sporadic, "During a show, it's not like a continuous stream. It's super spiky and (hits a peak) if something interesting happens. Think about the Janet Jackson wardrobe malfunction during the Super Bowl. That was in the pre-Social TV era. Now, you could have a four-hour event, but the amount of social interaction during the 5 minutes after that occurred would have gone off the charts."
Social TV spikes follow sound bytes. Tweeters didn't follow the whole presidential debate; instead, they focused on "binders full of women." That's where social TV goes crazy.
When people are on their tablet or other device, they will watch the Twitter hashtags and add their own comments. Second-screen apps like zeebox, GetGlue or Buddy TV include a Twitter stream. TV show websites include a Twitter streams. While people are watching another device, they're on Twitter and they're watching the hashtag and adding their own comments. As this continues, you won't have to go to Twitter to have a social TV experience. It will just be everywhere.
Espelien talks about this trend as we move forward, "You won't have to go looking for it or do any work," he said. "Remember back in the early days of tickers? It was originally CNN Headline News (that first) started running tickers at the bottom of the screen and in the beginning people were all freaked out about it. It was going to cause people Attention Deficit Disorder or something. Whatever people thought back then. But tons of shows run tickers now and nobody notices. Nobody even cares."
He continued: "I don't think people are going to run these over the first screens. People found this to be distracting. But anywhere you go in an app, on the web or on a second-screen device that pertains to that show, a feed is going to be automatically part of it."
According to the study's findings, Social TV will probably never be popular when watching movies or serial TV shows. Still, apps like zeebox and Viggle allow you to invite your Facebook (and other) friends to chat.
I would rather share my comments with friends who watch a show with me when no one else in my house will join me. What do you think? Are you a TV purist or do you like to share the experience?
LATEST VIDEO