Sling TV Lowers the Price of "Extra" Channels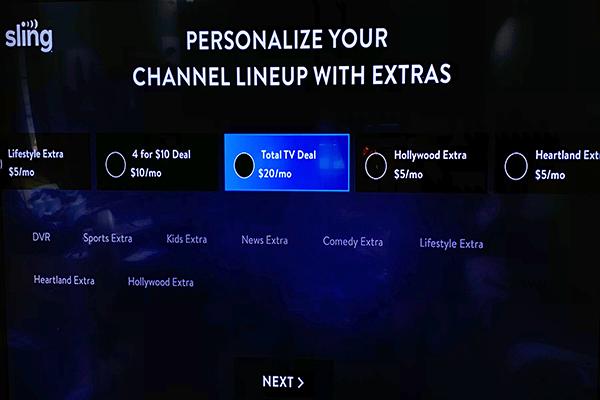 While most live TV streaming services are raising prices, Sling TV is offering a deal that could lower monthly subscription rates for many of its users. The new Total TV deal offers a deep discount to subscribers who add all of the service's "Extra" channel packages.
Here's how it works: Subscriptions start with an Orange or Blue base package to which you can add extra channels.
The base packages cost $25 each or $40 for both (80 channels total). There's a lot of overlap between the packages so it pays to compare channel lists before subscribing to one or the other. Orange has more sports channels (including ESPN) and offers the Disney Channel, while Blue is more focused on education and entertainment channels with Discovery, National Geographic, and the Paramount Network.
Except for sports, the extra channels are offered in bundles that cost $5 apiece — among them: Kids Extra, News Extra, Lifestyle Extra, Heartland Extra, Hollywood Extra, and Comedy Extra.
Though not true "a la carte tv" in the sense that you choose all channels individually, Sling TV keeps prices low by paring down its base plans and, through those add-on Extra bundles, lets you personalize your channel selection to a higher degree than other streaming TV platforms.
Even at $5 each, the cost of adding bundles can add up pretty quickly so Sling started offering a half-price deal that let you choose four Extra bundles for $10. If you want to expand your channel lineup even further, the new Total TV deal lets you add seven Extra packages for $20 and includes 50 hours of Cloud DVR for recording live shows.
Sling's Sports Extra bundle costs an additional $10 per month. In a recent blog post, Dana McLeod, vice president of programming for Sling TV, explained, "Since launching Sports Extra as part of our initial offering in 2015, we have added popular channels to the Sports Extra, including MLB Network, NHL Network, NBA TV, and more. Our team is working hard every day to keep prices as low as possible, but sports programming fees continue to rise."
New Sling TV customers can access the Total TV deal during sign up. Current customers can add the deal to their subscription by visiting "My Account" and then "Change Subscription." Customers using Roku, Fire TV and other compatible devices can also add the Total TV deal in the Sling TV app on the "My TV" screen.
Roku still has the best Sling TV app as it allows non-subscribers to view a number of TV shows for free in the Watch Now section. Non-subscribers can also rent movies and occasional events in the pay-per-view menu.