SkipJam iMedia A/V Distribution System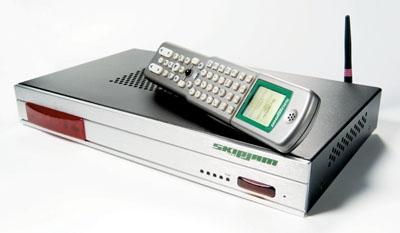 What time-shifting was to the VCR generation, place-shifting is becoming to the home-network-enabled. Extending personal entertainment to every room in your home is the mission of SkipJam, a company whose main product is the iMedia Center, a box you can attach to multiple A/V components including your cable or satellite receiver, home theater receiver, DVD player, and TV. SkipJam's promise is that virtually anything you can play or show in one room - whether a live or recorded TV program, a movie, a song, or a photo - should be accessible in any other room independently of where the content is received or stored. As a bonus, if you have broadband available at a remote computer, you'll be able to watch whatever you'd be able to see at home. With assistance from SkipJam's installers, I prepared to see how well this ambitious product delivered.
What We Think
Versatility squared. But you'll need a pro to install this A/V-sharing system.
SETUP The iMedia Center ($799) assumes you have an Ethernet network in place. The encoder/player can switch up to four analog video devices (via four composite- and three S-video inputs), up to six analog audio devices (via stereo inputs), and up to four digital audio devices (via two coaxial and two optical inputs). While HDTV resolution is not supported, analog TV and FM tuners are built in, and you get two remotes: a rechargeable RF (radio-frequency) controller, which has a helpful LCD screen and can be operated through walls, and a conventional infrared one.
The Short Form
SKIPJAM.COM / 914-933-0590 / $1,098 AND UP / 15 x 2 x 9 in
Plus
•Vast flexibility for moving A/V content around your home or the Internet. •Relies on inexpensive network-attached storage. •Free program guide for recording TV shows.
Minus
•Complex setup. •No support for HDTV.
Key Features
•Streams content from cable or satellite box, DVD player, and other A/V devices to your home network for viewing or listening in other rooms •RF remote with LCD that doubles as a 2.4-GHz cordless phone •Lets you watch your home TV from remote locations via the Internet •Instant replay of live broadcasts, commercial skip •Unlimited capacity
You also get three dual-headed infrared (IR) emitters (for controlling such components as an audio receiver, cable box, or DVD player), an Ethernet cable (for attaching the iMedia Center to your network), a composite video/stereo cable, and a CD-ROM containing SkipJam iMedia for Windows. This software enables you to tune, watch, and record channels available on your cable box from a computer in another room or across the planet.
For our test, SkipJam provided a second iMedia Center for a remote room so that signals from cable and satellite receivers and a DVD player located there could be made available elsewhere. However, for a second or third room, you could get by with an iMedia Player ($499), which has audio and video outputs but no inputs. SkipJam also offers the iMedia Audio Player ($299), with audio output only (no video and no inputs) and the iMedia Audio Player Pro ($499) for in-wall installation.
Unlike most media servers, the SkipJam does not come with storage. All your music, photos, videos, and TV shows can either be parked on the hard drive of any computer on the network or directed to a Network Attached Storage (NAS) device dedicated only to file-sharing. For our review, SkipJam provided an off-the-shelf Maxtor NAS. About the size of a VHS videocassette, it stores files on a 300-gigabyte hard-disk drive and plugs directly into an Ethernet jack. The $250 drive also buffers live TV (the default is a half hour). SkipJam provides a free TV program guide that downloads listings.