Showtime Launches Stand-Alone Streaming Service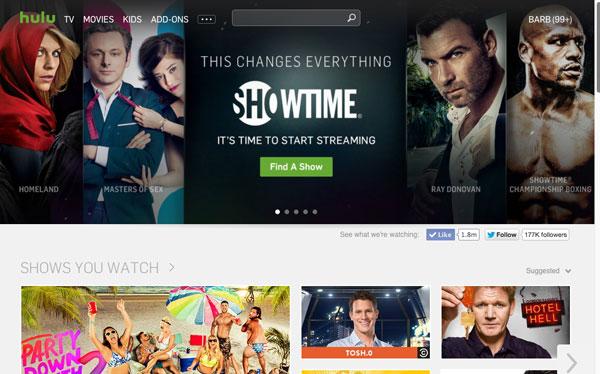 Showtime has launched its stand alone streaming service. As
announced last November
the service is available online and does not require users to subscribe to the cable channel. This follows the launch of HBO Now—HBO's stand alone subscription streaming app. Following HBO's lead, Showtime is timing its launch before the summer premieres of its most popular original series. Showtime, however, is not limiting its launch to just one device.
The app has been rolled out on both Apple TV and Roku. Users can subscribe to Showtime directly from the Apple TV or Roku app. When using the app to subscribe, the Apple ID or Roku sign in becomes the sign in for Showtime and subsequent monthly fees are billed via iTunes or the Roku Store. The monthly subscription is $10.99 which undercuts the price of HBO Now, which runs $14.99 per month. Playstation Vue and Hulu subscribers can get a $2 discount.
Showtime is the first of Hulu's "add-on" features. It's $8.99 per month which is in addition to the $7.99 Hulu subscription fee (total $16.98 per month). It's curious that Hulu doesn't carry current CBS TV shows, yet CBS-owned Showtime has made this deal. The Showtime content is integrated directly into the updated Hulu app and is accessed in the same way a user would go to Movies or TV or Originals, or Kids programming. Unlike other Hulu streaming, there are no ads in Showtime shows save for a Showtime trailer prior to the start of the main feature. Through the Hulu update, devices that have Hulu—from Chromecast to Xbox to Samsung TVs—give Hulu subscribers immediate access to Showtime. (While it may be an anomaly, when I updated the Samsung TV Hulu Plus app, it hijacked my TV requiring that I reset all TV features—proceed with caution.)
Playstation also offers a $2 discount to its Playstation Vue TV service subscribers. While the "alternative to cable" Vue service limits channels to select cities—currently Chicago, New York, Los Angeles, San Francisco and Philadelphia—Showtime is available nationwide for an additional $8.99.
Having tried the app on a number of devices, I'm impressed by its Hulu integration and simple menus. The Showtime stand-alone app lists movies by collections and genres. There are only a few collections including "If you like Masters of Sex", which listsThe Hurricane, Lee Daniel's The Butler, Mandela: Long Walk to Freedom, and Walking Tall. It seems like an odd collection and I'm not sure how those titles relate to Masters of Sex. There's a long list of movies in the Classics genre, including everything from Honey, I Shrunk the Kids to Life Aquatic with Steve Zissou to The Englishman who Went Up a Hill But Came Down a Mountain.
Any movie or series episode can be added to "My List" by clicking "add" on the title's info page. To automatically add new episodes of a series, click on the series then on a season. Choose to "add to series manager." New episodes should be found in the Series Manager section of My List (there aren't any new episodes for the season so I couldn't try it out, other than to add series to the list).
With HBO and Showtime premium channels and Sling TV's basic cable channels cable cutters are getting access to more popular cable channels than ever before. The CBS All Access stand-alone subscription for new programming adds broadcast TV. It's only a matter of time before most channels are available a la carte. But at the end of the month, when all subscription fees are added up, will it save money?