Shopping for a Digital Video Recorder
Storage and tuners and menus, oh my!
You've heard that a digital video recorder (DVR) will change the way you watch TV, and you know you want one. Beyond that, you're at a loss. How do you choose between the different models? How do you even know what to look for? Here are some questions to help guide you on your way to time-shifting bliss.
Does your satellite or cable subscriber offer a DVR?
Before you hit the stores to explore all the different DVR offerings, find out what products, if any, your cable or satellite provider offers. This may narrow your search to just a few products or brands.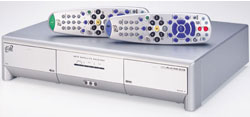 Both DirecTV and DISH Network offer satellite receivers with built-in DVRs. One box means one less set of connections you need to worry about when hooking up your system. DirecTV's current models use TiVo, and the service adds $4.99 to your monthly package. The company has announced plans to release a non-TiVo DVR model this year. DISH Network offers several DVR models that feature the company's own user interface, and they charge a $4.98 monthly service fee.
The cable companies are slowly but surely following suit. Cable-box manufacturers like Motorola and Scientific-Atlanta now make cable box/DVR combos, and major providers like Cox, Comcast and Time Warner offer DVR service for digital cable subscribers; however, unlike with satellite, you have to wait for them to make the service available in your area. In most cases, you have to pay an additional fee to add the service and equipment; prices vary depending on the provider.
Do you want to record HDTV?
If you have an HDTV and want to be able to record and store HD programs, the list of available products is growing every day, although there still aren't nearly as many HD DVRs as standard-def DVRs. Be prepared to pay more. If you just want to record free over-the-air HDTV, you can purchase a standalone HD DVR like Sony's new $800 DHG-HDD250. If you want to record cable or satellite programming, you need to check with your provider and find out how much their HD programming and HD DVR equipment (if available for cable) costs.
How much storage space do you need?
This one's easy, right? The more shows you record, the more storage space you need. Not necessarily. Your viewing habits are a larger factor than simply how many shows you watch. Are you someone who watches recorded shows right away, or do you prefer to wait until you've got a bunch and then sit down for a marathon? Do you like the keep recordings for a long time? Do you want to record everything at the highest-quality setting? Do you record a lot of sports show that run three or four hours? Are you a neat freak who hates a cluttered in-box?
The average starting size for a standard-definition DVR hard drive is 40 gigabytes, which is ample space for someone who watches and deletes programs quickly. If you record a lot of shows at higher-quality settings and tend to let them build up, then you may want to consider at least an 80-GB DVR. There are standard-def models on the market with 400-GB hard drives—that's a lot of TV.
HDTV takes up more recording space, so the bigger the hard drive, the better. HD DVRs start at about 120 GB; 250 GB is probably the most popular size right now.
What user interface should you use?
Storage is important, but don't underestimate the importance of the onscreen user interface—the menu system through which you set up and control the recorder—as it will ultimately affect how enjoyable the product is to use on a daily basis. While some manufacturers design their own user interfaces, which can vary greatly in quality and simplicity, many choose between the big two: TiVo and TV Guide On Screen.
Of course everyone loves TiVo, and why not? It's the easiest, most user-friendly DVR interface in town, in terms of both setup and daily use. Plus, it's got lots of search options, Season Passes that let you record every episode of a show or just a first-run episode, automatic backup of live TV, and the ability to schedule recordings online and view them on multiple TiVo devices. But all that convenience and ease of use costs you: $12.95/month or $4.99/month for DirecTV customers.
Gemstar's TV Guide On Screen is a free interface with an eight-day program guide that lets you search for shows based on various parameters and set one-time or repeat recordings. Setting up TV Guide On Screen is easy, and you don't need a phone or Internet connection to download program listings. The menu system isn't as thorough and clear as TiVo's, but it's pretty darn close. Soon, DVRs that use the i-Guide program guide for digital cable will be able to schedule recordings from mobile devices like cell phones.
Lest we forget, ReplayTV is still hanging in there.
ReplayTV came out of the gate about the same time as TiVo but never made a real name for itself outside of the video-enthusiast market. The interface offers essentially the same features as TiVo for the same monthly charge of $12.95.
Do you need a dual-tuner model?
Only if you want to be able to watch one show while you record another or record two shows at the same time.
Do you want a model that can also burn shows to DVD?
If you've yet to purchase a DVR or a DVD recorder, you might as well get one product that contains both. Prices have come down enough on these combination products that you'd pay almost as much, if not more, to purchase the two separately. Again, two products in one box equals easier setup, and you can burn recorded shows to DVD to free up hard-drive space or loan a copy of a recording to a friend. Companies like Humax, Toshiba, and Pioneer offer DVR/DVD combos that use the TiVo interface, while Panasonic, Philips, and Samsung offer combination models that use TV Guide On Screen.
What connections should you look for?
In HD DVR territory, look for a model that has an HDMI or DVI digital video output—as long as your HDTV has an HDMI or DVI input. If not, component video will likely be the high-def video connection of choice. Look for a digital audio output, so you can send an HDTV program's Dolby Digital 5.1 soundtrack to your receiver.
As for standard-def DVRs, S-video is usually the highest-quality video input. If your cable/satellite box has an S-video output, you should use it. Otherwise, you'll have to choose between the lower-quality composite and RF connections. Stereo audio is usually your only choice for audio input. If you want the highest-quality output, especially with a DVR/DVD combo, look for a model that has component video and digital audio outputs.
Digital video recording is truly one of the coolest technologies around. Once you've used it, watching TV without it is almost unbearable. Now that you understand what's out there for the purchasing, what are you waiting for?