Shopping for a 70-inch Flat Panel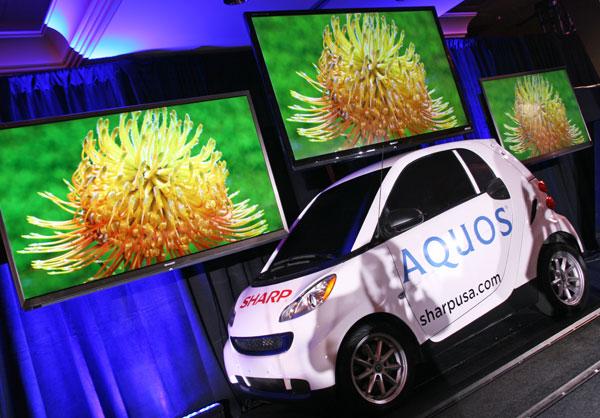 I've recently installed some built-in cabinets in my family room, leaving me enough space to fit a 70-inch TV. Currently, I have a 50-inch Pioneer Kuro (non-Elite) that I've been extremely happy with. But now that I've got the space for a 70-incher, I'm strongly considering upgrading. The problem is that I've been pretty disappointed with what's currently available in the way of 70-inch TVs. I realize that I'm limited to the Sharp 70-inch models or the larger Elite (which is out of my price range). I could increase my options if I considered a 65-inch set from Samsung or Panasonic, but hate the thought of giving up those extra five inches.
Also, I'm pretty spoiled by the picture quality of the Kuro. I love the shadow detail and lack of motion artifacts on the plasma, and I'm worried that I'll be disappointed with the performance of some of the larger LED TVs. I was excited that Sharp announced the LE945U line at CES this year, which is supposedly going to include full-array local dimming, but I've seen recent reports that Sharp may not include local dimming on their 2012 sets. Have you heard anything about this? Is this feature really worth waiting for over the full-array LC-70LE735U (with no local dimming) that can currently be obtained at a substantial discount?
Jim Remus
I don't think there's a dramatic difference between 65 and 70 inches, so I wouldn't rule out 65-inchers. On the other hand, if you're the type of person who obsesses about such things, it'll stick in your craw and detract from your enjoyment. Only you can make that call.
I agree that the Sharp sets with full-array LED backlighting but no local dimming are not the best way to go. I just sent a query to Sharp about local dimming in the LE945U series (seen above at the company's CES press conference), and the response was, "The 9-series discussed at CES is still under development. Specs are still being finalized, so we cannot confirm specific features at this time." I hope they do implement local dimming, because it's definitely worth waiting for.
If you're spoiled by the Kuro—and who wouldn't be?—I doubt you'll be happy with any LCD TV, except perhaps the Sharp Elite, which is beyond your budget. The only other LED-LCD TV with local dimming you might want to consider is the Sony XBR-65HX929 (55-inch version reviewed here), which is pretty expensive at $6000 for a 65-incher, and like all LCDs, the picture quality degrades as you move off axis. Also, 3D images exhibit ghosting if you tilt your head.
I recommend getting a 65-inch plasma from Samsung or Panasonic. We expect to get the 2012 flagship plasmas from both companies for review, but we don't have them yet, so it will be several months before those reviews are published. If you can't wait that long, I recommend the Panasonic TC-P65VT30 2011 flagship ($4000) or, if that's too costly, the TC-P65ST30 ($3000). As you can see, at this size, even flagship plasmas are significantly less expensive than comparable LED-LCD TVs, and they offer better overall performance to boot.
If you have an A/V question, please send it to askhometheater@gmail.com.
LATEST VIDEO