Shootout: Three Mid-Price A/V Receivers Page 2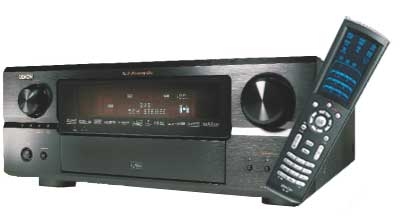 Denon AVR-3806
The Short Form
$1,000 ($1,300 LIST) / 17.1 x 6.8 x 16.9 IN / 38.6 LBS / usa.denon.com / 973-396-0810
Plus
•Strong power and superb audio performance •Converts analog video to HDMI •Impressive auto-EQ feature
Minus
•Difficult-to-use remote •Does not upscale 480i video for HDMI output •Slow response when calling up or releasing onscreen menus
Key Features
•120 watts x 7 channels •2 HDMI inputs •Upconverts composite, S-video and component video sources for output via HDMI •Auto-speaker calibration and auto-EQ •XM Satellite Radio-ready •3-zone multizone playback •Back-surround speaker channels reassignable for Zone 2/3, B-Speaker outputs, or front channel bi-amp •7-device preprogrammed/learning universal remote with macros
Test Bench
Denon's AVR-3806 aced every bench test I ran, with lots of power, near-perfect noise and linearity, and unusually good performance on our 24-bit/96 kHz PCM tests. 5- and 6-channel power were also particularly impressive, measuring 108 watts for each channel before clipping. Full Lab Results
Setting up the Denon AVR-3806 receiver followed a familiar pattern in which I connected a supplied microphone and activated the auto-calibration routine, which releases a robotic series of chirps from each of the five main speakers in turn. The AVR-3806 took several tries to decide that my front-right speaker was not wired out of phase after all (it wasn't!). I finally had to move that speaker a couple of inches, but the results still weren't wholly accurate: The Denon set my front left/right pair to "large" despite their limited deep-bass capability, and several channel levels were off by as much as 4 decibels (dB). Auto-cal is a fine idea, but I can't say I trust it entirely: I rebalanced using my own sound-level meter before serious listening.
The AVR-3806's auto-equalization circuit, licensed from Audyssey, is the most sophisticated of this trio. The corrections it dialed in were immediately audible as less zingy and slightly less honky than my speakers' sound unprocessed.
The Denon converts incoming composite-video, S-video, and component-video signals to HDMI digital video so you can run just one cable between the receiver and TV. But it doesn't rescale the video, so you only get 480i to the TV from sources such as a typical analog cable box or VCR. This probably won't be a big deal unless your TV is one of those whose HDMI or DVI input doesn't recognize 480i signals. In that case, you'll be forced to run an additional component-video (or lesser quality) cable to your TV, then switch the TV input to view 480i sources. Another quibble: There seemed to be an inordinate delay in "releasing" the display when switching in and out of onscreen menus.
LATEST VIDEO