Share Your Vudu Movies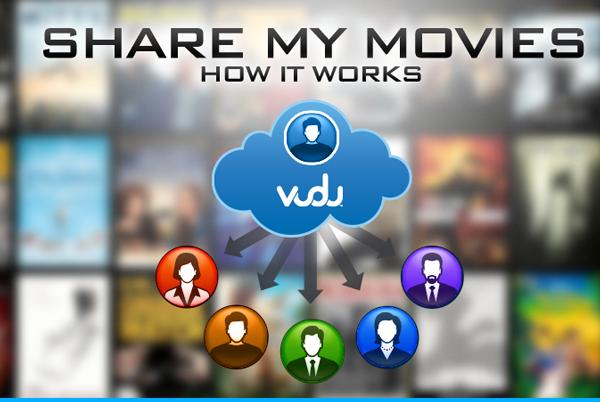 Vudu has just made it easier for you to share the Vudu and UltraViolet movies you own with up to five friends or family members. Instead of sharing your Vudu account's username and password, you can invite others to watch what is in your Vudu library using their own Vudu account. "Share My Movies" is still in beta, and there are some kinks to be worked out, but it's an easier way to share your UltraViolet library than navigating the confusing UltraViolet website.
UltraViolet is a cloud locker for digital movies that can be played on media players, smart TVs, and mobile devices using compatible apps like Vudu, M-Go, Flixster, Target Ticket, Kaliedescape, Universal Hi Def, the Sony Pictures Store and Paramount Movies. While Vudu is promoting the shared movies as a new idea, those who have an UltraViolet library have always been able to share with up to five users. Still, many who redeemed UltraViolet copies of Blu-ray discs, or who took advantage of Disc-to-Digital options using Vudu, Cinema Now or other streaming sites, may not have actually tried to add users or to manage their UltraViolet account on the UltraViolet website. This new sharing option is a way to allow Vudu to manage your UltraViolet library without leaving the familiar Vudu website.
Vudu's "Share My Movies" is relatively easy. Start by learning more at Vudu's share page and click on "share now." Alternatively, you can choose the UltraViolet settings page from the drop-down menu below your name once you've signed into your Vudu account. If you haven't set up an UltraViolet library, follow the steps to link to UltraViolet. If you have an UltraViolet library, you will see up to five slots for inviting friends and family (fewer if you are already sharing your library through UltraViolet). Be sure to invite others using the email that is associated with their Vudu account or the email they will want to use to establish an account.
If your invitee doesn't have a Vudu account, he will be asked to create one -- and will be awarded five free movies of his own for signing up. This means you get an incidental bonus when you share your library, as the movies that are acquired by those you invite will ultimately end up in your own UltraViolet library. A Vudu account can only be linked to one UltraViolet library. Once your friends agree to link to your library, their movies are available to you as well. This includes other UltraViolet titles, whether they were bought on Vudu, another UltraViolet partner app/site, or were added through Disc-to-Digital. Those new free movies chosen by your invitees should now be available to stream from your "My Vudu" screen.
When I tried to Share My Movies with my son, there were some snags -- because I already had an UltraViolet library and he had just signed up for a Vudu account to take advantage of the free movie offer. He chose to accept my invitation, and a warning appeared that he had to unlink from his current library to join my library. When he agreed to link to my library, all of his free film titles and all of the movies in my library were now available at any time for his streaming pleasure. His movies, however, did not show up in my Vudu library nor my UltraViolet library.
Vudu customer support assured me that his titles will be added to my library within 48 hours. The UltraViolet site has a new interface that is also in beta. It too displays a disclaimer that not all movies will immediately appear in the library. While it seems I'm getting the short end of the stick because he gets to watch my movies but I can't watch his, I'm expecting it will be sorted out soon.
LATEST VIDEO