Separates: Bring On the Heavy Artillery Page 3
Low-volume listening modes serve two functions. As the real-world volume drops below the reference level, human hearing changes its ability to perceive different frequencies. As a result, dialogue becomes harder to catch, backgrounds disappear, and the soundfield collapses. In addition, some content may vary widely in volume, which requires constant (and annoying) manual adjustments. There are several new technologies that combat these issues. Dolby Volume, THX Loudness Plus (which is now part of THX Ultra2 Plus certification), and Audyssey Dynamic EQ all aim to maintain consistent tonal balance, impact, and surround envelopment at lower volume levels. Dolby Volume and Audyssey Dynamic Volume can also even out varying volume levels from one source to another—or between TV shows and commercials. Any of them will make movie viewing more civilized to embattled ears. We hope all surround processors will have at least one of them someday.
Expanded listening modes add extra channels to surround sound's basic 5.1 configuration. Height channels are available in Dolby Pro Logic IIz, Audyssey DSX, and DTS Neo:X. Width channels are also available in the latter two. If you're using a seven-channel amp, you may choose height enhancement, width enhancement, back-surround decoding or enhancement, or (and this is a perfectly legitimate choice) none of the above.
Surround processors with an Ethernet connection may include networking features. For instance, they may receive Internet radio, a subscription music service, or pull music off the hard drive of a networked PC. If you're addicted to your iPhone, iPad, or iPod, an iOS-compatible USB jack is a plus. Wireless AirPlay or Bluetooth connectivity are relatively rare in surround processors, but we suspect the more feature-conscious manufacturers—specifically those who also make A/V receivers—will start including both wired and wireless network audio features to accommodate generational changes in the way people listen to music.
Some surround processors and multichannel amps are certified by THX to produce sound levels of up to 105 dB peak—that's loud!—in rooms up to 2,000 cubic feet (THX Select2 Plus) or 3,000 cubic feet (THX Ultra2 Plus) when mated with THX-certified speakers, ensuring that the entire system will measure up to stiff THX specs.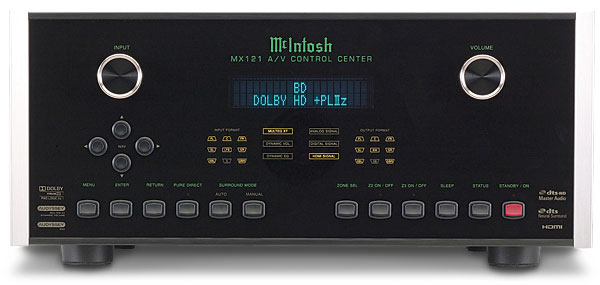 Legacy Connections
Component video, which most often uses color-coded red, green, and blue RCA connectors to transfer the signal, had been an HDTV-capable connection for many years, but that is now changing. Unlike HDMI digital video, component video is analog and is often limited to passing only 480p standard definition resolution on newer source components. You'll find component video connections mostly on older HDTVs and DVD players.
S-video is an analog video connection that separates the brightness and color signals on a single connector. This round, multi-pin jack is not HDTV worthy. Nor is composite video, which uses a yellow color-coded RCA-style jack. Antediluvian signal sources like VCRs and analog cable boxes use this type of connection. Many surround processors now convert all these incoming "legacy" signals to digital for output via HDMI, so you can feed your display with one cable.
Although HDMI is usually the best way to carry audio signals, older signal sources may require other kinds of audio connection. The next best choice is a digital connection using a coaxial or optical cable. There is some controversy over which is better, but they're roughly equivalent. You can find coaxial or optical digital outputs on Blu-ray, DVD, and CD players and various set-top boxes. Note that on Blu-ray players, coaxial and optical jacks do not support the newer lossless surround codecs.
Analog audio connections are still relevant. Sources that may need 5.1- to 7.1-channel analog jacks include older Blu-ray and SACD/DVD-Audio players. Audiocassette decks and other analog sources require stereo analog jacks. A turntable requires a special, dedicated phono input, or you'll need to add a separate phono preamp.
Other connectivity options benefit custom and advanced installations. These include multizone outputs, which usually feed a stereo line-level signal to a second room, and infrared remote jacks that help the AVR accept commands when trapped in a gear closet. They may also include a 12-volt trigger, which activates other products like projectors, screens, curtains, etc., plus RS-232 for servicing or control systems.
You and Your Installer
Your surround processor's user interface affects how you use it and how you feel about it. Some surround processors are designed for professional installation. It's best to know in advance how much complexity you can handle and how much of it you're willing to outsource.
Consumers often use separates with premium remotes or high-end control systems. Apple's iPhone, iPod touch, and iPad are increasingly popular as touchscreen controllers, and smarter manufacturers are supporting them with apps. The remote that comes with the surround processor may be too rudimentary for elaborate home theater control. If you do end up using a conventional remote control, you'll want something with buttons that are differentiated by size, shape, color, and layout. Many remotes include either learning capability, preprogrammed command-code libraries, or both. Therefore, they also operate other components like your HDTV and disc player.
Buying separates isn't rocket science, but separates often end up in dedicated home theaters that would benefit from careful setup and other things a good custom installer can provide. You may want to factor that in as part of the cost.