Seasons' Beatings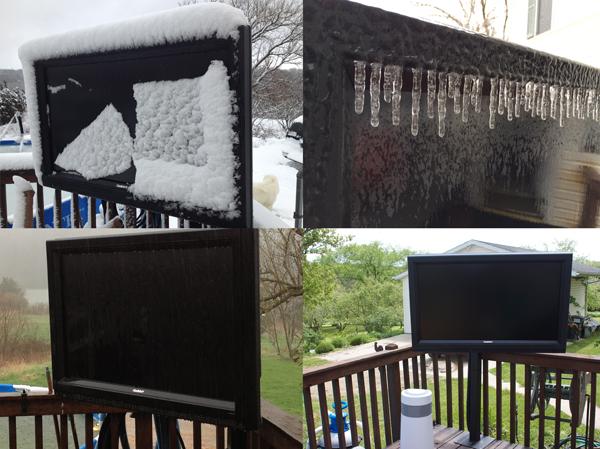 "Use only as directed" is great advice when it comes to not taking Tylenol if you're drinking alcohol and then not smearing Preparation H on your puffy eyes the next morning (when it's okay to take Tylenol to relieve the effects of the previous night's imbibing). But I don't always do things as directed. I don't even do a lot of things as suggested. Half the time I don't even look at an instruction manual until I've encountered a near fatal error whenever I'm putting something together or learning how to operate it. (This often includes power tools. It's a wonder I still have all my fingers…and toes.) So it's no surprise that I forgot to put the protective dust cover on the outdoor TV sitting on my back deck before winter set in.
To tell the truth, the abuse of SunBriteTV's 4660HD 46-inch outdoor LCD television began even before I installed it for a review in April of 2012. Days after it arrived, I hauled the set over to my in-laws' house. They'd heard I had some newfangled device called an "outdoor TV", and they wanted to watch the NCAA Final Four Playoffs in the comfort of their yard while they barbecued. So the 4660HD made the journey all the way to the next county, along with a Soundcast Systems Outcast wireless speaker system and an ancient Terk TV50 amplified TV antenna. Propped up on a couple of logs and leaning against a near-dead tree, the TV was awesome; and, against all the odds, nothing disastrous happened to either the TV or the Outcast speaker. Most welcome of all, however, is that no one spilled beer on an extension cord and electrocuted himself. Or burned the house down. (Some of the bratwurst did get a little crispy, though…)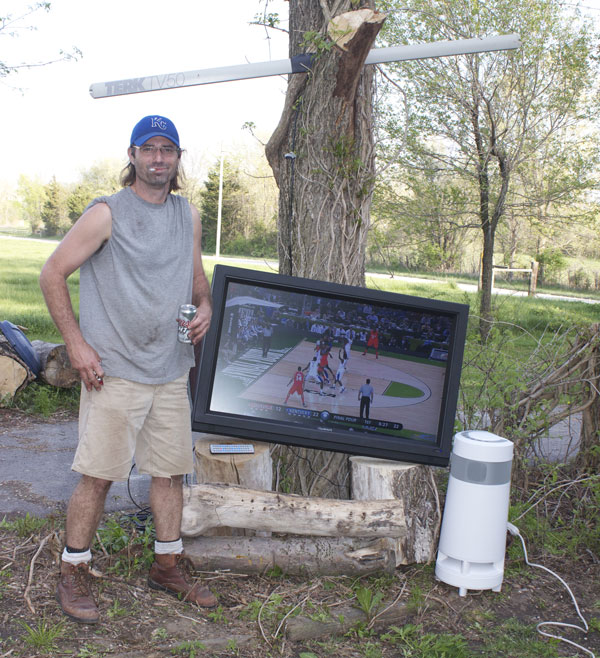 SunBriteTV suggests that the "ideal placement is in an area where the TV is shaded by trees, landscape and/or structures, or under a patio cover or gazebo," so, naturally, when it came to installing the 4660HD for real I stuck the thing on a swivel mount attached to one of the company's planter poles securely bolted down in the corner of my deck - a spot conveniently located far from any shade or covering. At least I did remember to orient the front of the TV so that it wasn't facing the sun. (Extended periods of direct sunshine on the LCD panel can cause dark areas to temporarily develop.) The end result was that if the sun was out, it was going to shine on the 4660HD.
I also heeded the warning to keep the TV "at least 5 feet from pool, spa, or other body of water." Despite the distance, though, the 4660HD became a 46-inch magnet for pool volleyballs. The TV has been nailed more times than I could keep track of, including one direct shot to the front of the screen itself. (Unbelievably, the screen didn't break, but the ball did leave mark…) There was also a night when the 4660HD silently displayed the moving screen saver from the DISH Joey hooked up to it until later the next day when I discovered it hadn't been turned off before we all came inside to go to bed.
Mother Nature graciously contributed her share of torture. After the 4660HD sprouted on my deck, we had an incredibly wet spring followed by a scorching summer that brought a devastating heatwave and the beginnings of a record-breaking drought. Way too late for the corn, a bit of rain and, eventually, a good layer of snow came. Then a bit more rain. And hail. A few tornadoes. (Close but thankfully not pee-in-your-pants close.) Some wintry mixes. More rain/hail/snow/ice/wintry mixes…and, since this is Missouri, it all arrived in no particular order, either.
After more than 18 months of cohabitating with 4660HD, two things surprise me. First of all, even though I didn't doubt SunBriteTV's Tom Dixon when he told me about how well-built the company's outdoor TVs were (of course he's going to say that), seeing the dramatic changes in the weather around the outdoor TV has given me a unique perspective on the whole issue of how tough a TV has to be in order to exist outdoors. Of course, I've had outdoor speakers for years - but an outdoor TV is a whole other level. The point gets hammered home when you stand at the back door and see the hail bouncing off the TV's chassis. And Dixon was right. In spite of all it's gone through so far, the 4660HD's picture still looks great and everything seems to work just as well as it did that first day when it was propped up hillbilly-style on a couple of logs next to a tree.
The second surprise is how many times we actively used the 4660HD. I can tell you it was a hell of a lot more often than I ever imagined it would be; and, thanks to the small fireplace we have on the deck, out outdoor TV watching season stretched from late March to early November. That's in large contrast to what I originally thought would be the case when I first began this outdoor TV project: that it would be a June through August thing, at best.
I'll be the first to say that an outdoor TV is undeniably a luxury item. After food, clothing, and shelter, there are a boatload of things I'd have on my "needs" list before I ever got to the checkbox for "Install outdoor television on back deck." On the other hand, living with one has persuaded me to move the line listing for an outdoor TV much higher up on the list. Now I just need to wait for the ice to melt so I can go out and put that damn protective dust cover over the TV…