The Scoop On Sony's 4k Media Player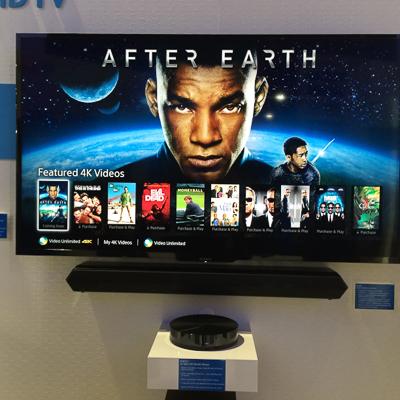 New Sony Ultra-HD 4K TVs are bundled with the FMP-X1 4K Media Player. The hockey-puck shaped device stores 4K digital copies of movies, TV shows, and shorts to take full advantage of the higher resolution TVs and projectors.
But don't call this player a streaming device. The only thing it has in common with a media server or other media players is that it stores the 4K videos on a 2TB drive. The movies are downloaded from the Sony Entertainment Network's Video Unlimited 4K online store. Unlike movie rentals from iTunes, Vudu, or other services, the movie must download in its entirety before it can be played. Featured movies are trickled to the streamer and are available for immediate playback. Movies that are marked with a (download) arrow and "purchase" must first be downloaded before they can played.
A typical 2-hour 4K movie is about 50 GB and will take 5 hours to download on a somewhat-high speed 20Mbps Internet connection. (Remember that many internet providers put a cap on how many Gigabytes you can download and 5 movies could put you over your limit.)
The FMP-X1 integrates with the new (as of 2013) Sony TV cross menu on the 55-inch and 65-inch TV models. The TV remote controls the media player. The player can be controlled with an Android app. A Sony Experia Android tablet is included with the 84-inch TV and the projectors shown at CEDIA instead of use with the TV remote.
Ten free 4K movies come with the purchase of any 4K Sony TV and FMP-X1 media player. There were 60 movie titles when the service went live at the beginning of September, and Sony reps tell me there should be over 100 titles by the end of the year.