From Sci-Fi to SyFy: Star Trek: Enterprise Season: One, Storage 24, Continuum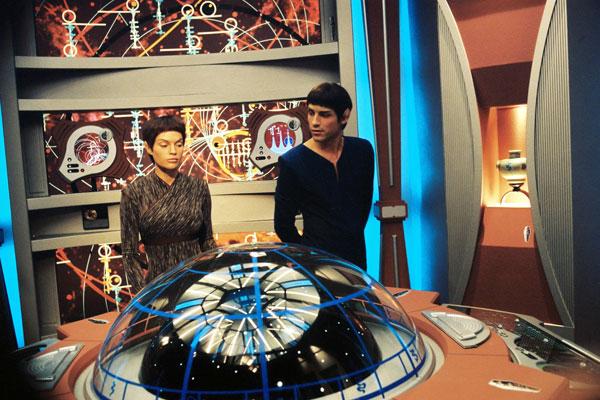 Big-screen or small, we love science fiction here at
Home Theater
. And some overlooked titles of the genre can also be the most worthy of your viewing time. So if you're curious about the maiden voyage of the NX-01, a recent time-travel action-drama, or the latest man-versus-alien opus, you've come the right place.
Star Trek: Enterprise Season: One (CBS/Paramount)
Enterprise has many interesting distinctions in Star Trek lore. It was the shortest-running live-action Trek series since The Original, and the last small-screen incarnation of the franchise. But as a "prequel" it ironically utilized the most sophisticated special effects to tell the story of the earliest, crudest days of Earth's involvement with the United Federation of Planets. This first-ever "Starship Enterprise," powered by the Cochrane Warp Drive, and other interstellar wonders are the prime beneficiaries of CBS/Paramount's wonderful Blu-ray remastering, undertaken even as the studio is continuing to issue past seasons of The Next Generation.
Old extras simply won't do for this occasion: Those are here too, but the emphasis is on multiple new audio commentaries by original creators from both sides of the camera and a vintage made-for-TV but never-released behind-the-scenes special. Most impressive is the multipart retrospective documentary "To Boldly Go - Launching Enterprise," constructed of numerous interviews (including plenty of screen time with the fascinating star Scott Bakula), some completed just a few short months ago. A real gift to serious Trekkers.
Storage 24 (Magnet)
An always-welcome dose of well-executed old-school sci-fi/horror, Storage 24 follows a recently-parted young London couple going through the familiar ritual of divvying up all of their respective stuff. With a couple of friends along for support, they head to their local storage facility, unaware that the entire city is in a state of emergency following the crash of a military cargo plane. (Think Super 8 from above, but without the spectacular home theater demo material.)
Trapped without power, the hipsters find themselves trapped in the labyrinthine Storage 24, pursued by a very strange, very violent and very capable creature. To an extent, you can guess what comes next. And in the case of this new Magnet release, that includes both scene-specific and full running audio commentaries, copious featurettes, video blogs and deleted scenes.
Continuum Season One (Universal Studios)
It's the present day, and Kiera Cameron (the lovely Rachel Nichols) is a CPS "Protector" from the year 2077 who has traveled back in time along with fugitive members of the terrorist group Liber8. To round up these nasties and prevent them from altering the course of history, Kiera tries her best to blend in and works alongside local law enforcement. But she has arrived pimped out with a bulletproof, strength-enhancing camouflage/invisibility suit and other nifty doodads, this on top of her cybernetic implants. (Get your mind out of the gutter.)
We're not completely unsympathetic to the motivations of Liber8, as the 100th anniversary of Star Wars apparently didn't go very well and society is in turmoil, as democracy has given way to Corporate Congress, at the expense of much personal freedom. Kiera's personal agenda and her knowledge of upcoming events bring many interesting twists to this offbeat police thriller, which will begin its second season on SyFy in just a few weeks. The only extra is a relatively quick look at the talent and characters.