Samsung UN46B8500 46-Inch LCD HDTV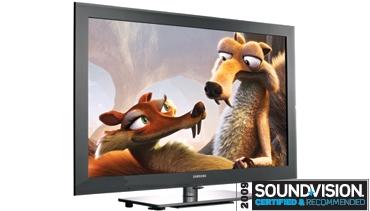 Key Features
$3,600 (list) samsung.com
• 46-inch, 1080p-resolution screen
• Slim, 1.6-inch-deep cabinet • LED backlight with local dimming
• 240-Hz display with Auto Motion Pro blur-/judderreduction processing
• SRS TruSurround
• Onscreen Widgets include Blockbuster OnDemand, YouTube video, Flickr photo, Yahoo! News, weather, finance, and video, Twitter, and USA Today Sports
• DLNA-compatible
• USB ports (2) with video, JPEG photo, and MP3 media playback
• A/V inputs: (4) HDMI, component-/composite-video (shared); RCA stereo analog audio and minijack stereo analog audio; RF Ant/Cable; RGB PC; LAN
• Outputs: coaxial digital audio, minijack analog stereo audio
• Dimensions + Weight 441?2 x 30 x 11 in; 54 lb (with stand)
The last time I tested a Samsung LCD, the company's UN46B8000 (September 2009), a model with an "edge-lit" LED backlight, I was totally taken in by that set's slimness. At just under 1½ inches deep, here was a display that finally lived up to my expectations for a "flat" TV. The only other thing I could ask for was for Samsung to go a step further and add local dimming to deepen black levels and boost picture contrast - all while maintaining the 8000 Series' ultra-slim profile. As it turned out, my dream was about to be realized. A few months later, Samsung released its 8500 Series, a TV lineup that manages to squeeze an LED backlight with local dimming into a set that's just over 1½ inches deep. But in dreams begin responsibilities - fiscal responsibilities. Samsung's UN46B8500 has a $3,600 list price, which is about twice that of some other LCD models with similar features. Let's see if this slim set is worth the green.
Along with its local dimming LED backlight, the 46-inch UN46B8500 sports Samsung's Auto Motion Pro 240-Hz technology. This feature uses interpolation processing to reduce motion blur and judder in film- and video-sourced programs, respectively, something it does by creating new video frames to fill in the gaps between existing ones in standard 24-Hz (film) and 60-Hz (video) sources when they're bumped up to the display's 240-Hz refresh rate. A setup menu for the feature provides both presets and a Custom mode that lets you independently adjust the level of blur reduction for programs like HD sports, and judder reduction for movies.
Another notable 8500 series feature is a suite of Yahoo! TV Widgets. Pressing a remote control button labeled Internet@ calls up a screen overlay with options to access Blockbuster OnDemand movies for rental or purchase, YouTube videos, Flickr photo galleries, and Yahoo! News, Weather, and Finance. There's even Twitter so you can tweet your deep two-sentence thoughts on the latest KFC commercial. The set has a LAN port to connect to a wired home network; alternatively, you can hook up to a Wi- Fi one via Samsung's optional LinkStick Wireless LAN Adapter ($80). The DLNA- compatible 8500 series TVs will also let you stream music, videos, and photos from a networked PC or a DLNA-certified gadget like a cellphone.
Samsung's svelte set has a shiny, dark graytoned bezel. A blue LED lamp sits directly below the screen - a feature that can also be switched off in the setup menu if you find it distracting. In keeping with its streamlined design, the UN46B8500 has been purged of all but the most modern, essential connections. A sidefacing jack-pack on the rear panel offers up four HDMI inputs, along with two USB ports. (With a USB flash drive plugged in, the TV's Media Play menu lets you access videos, MP3 music files, and JPEG photos). A second, bottom-facing jack-pack contains a dual component-/composite- video input along with a stereo audio input and RGB PC port. Although the UN46B8500 comes with an elegant-looking swiveling base, the arrangement of its inputs indicates that it was primarily designed for wall mounting. To that end, Samsung offers an optional Ultra Slim wall mount ($250).
Samsung's slightly curved remote control has an uncluttered, fully backlit keypad. You switch inputs by hitting the Source button and scrolling through the list of connected components. And the P.Size button lets you toggle between display modes, which include Screen Fit (displays high-def programs with no picture overscan), 16:9 (displays 16:9-format pictures with 4% picture overscan), Wide Fit (stretches 4:3 pictures to fill the screen) and Zoom 1 and 2. Hitting the Tools button, meanwhile, calls up a list of functions (including picture-in-picture settings) that you would otherwise have to dig deep through the TV's menus to access.
SETUP
Samsung has made setting up the UN46B8500 incredibly simple - all you need to do is select the Movie picture mode, and the TV delivers a fine-looking image. But those who can't keep from poking around setup menus will find plenty of options to make further tweaks. Basic video adjustments can be made to any of the TV's four preset modes in the main Picture menu, and your settings will be stored independently per input. And the set will also store adjustments made in the Picture Options submenu, including color-temperature mode, Digital Noise Reduction, and Film Mode (which determines how the TV handles film-based 480i- and 1080i-format programs) on a per-input basis. The other key setting here is Auto Motion Pro 240 Hz, which, as previously mentioned, offers several presets, including a Custom mode with sliders to independently tweak blur and judder reduction.

Both the Samsung's Movie and Standard modes additionally offer an Advanced Settings menu for serious tweakers. Here you'll find a gamma adjustment, a full set of white-balance controls to fine-tune grayscale, and a color-management submenu. There's also a Black Tone control - a feature that I found could deepen blacks further without crushing shadow detail when its Dark setting was selected.
LATEST VIDEO