Samsung HL-R6168W 61-inch DLP HDTV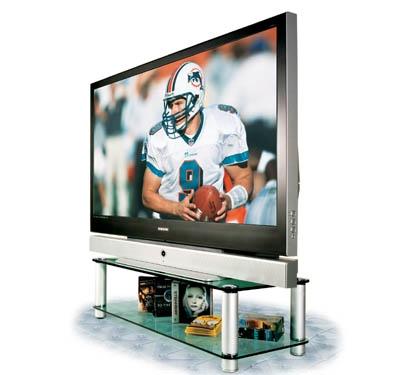 What We Think
While it requires a little extra attention to coax out its best picture, this big Samsung packs plenty of visual punch.
America is ready for HDTV football. Every NFL-carrying network this year offers numerous high-def football broadcasts every weekend, and all Sunday and Monday prime-time games appear in HDTV. DirecTV even has a high-def version of its Sunday Ticket package, allowing you to watch out-of-market games. For a football fan, the beginning of the gridiron season is the most tempting time to consider buying a new TV, and all those "available in HDTV" promos and neighbors who've taken the plunge don't help ease the temptation.
Neither do sets like the Samsung HL-R6168W. This rear-projection HDTV, with its massive 61-inch screen and 1080p resolution, seems tailored for the HD sports fan. It does cost a few hundred dollars more than the same-size 720p model in the company's lineup, but stepping up to 1080p allows for a sharper picture with 1080i high-def TV shows, which are far more common than 720p broadcasts. More critically, the "wobulation" technology used in both models (see "Pixel Magic") lets you sit close without being distracted by individual pixels.
From my seating distance of just 8 feet, the TV presented an immersive yet unobtrusive face. Its screen is bordered by a thick black bezel that measures 13/4 inches wide along the top and sides, 41/2 inches wide along the bottom. An inch-wide gap runs the width of the cabinet, visually separating the black screen from the silver speakers and base below. Samsung calls this a "floating screen" design, and it adds some much-needed panache.
The pedestrian Samsung clicker could use a dash of panache itself. The gray wand lacks backlighting and doesn't do much to aid navigation by feel. Its worst offense is that the oft-used key for changing display mode is hidden under a sliding door. Samsung needs to work on this - the company delivers a similar remote with most models, and its nicely designed TVs deserve better.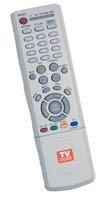 SETUP The TV's menu allows access in one place to every function from input switching to initial setup. Samsung includes the free TV Guide On Screen, a feature that's designed to replace the guide you lose when you ditch your cable box for a CableCARD. TV Guide has a history of not working properly with some digital cable systems, but it grabbed program information successfully this time from Time Warner NYC.
I appreciated the selection of rear-panel ports, including a pair of HDMI inputs and a dedicated VGA-style PC input. Most current 1080p sets cannot accept 1080p sources via HDMI, and the Samsung is no exception, but it did accept full 1,920 x 1,080-pixel progressive signals via its PC input - good news if you have a PC with a compatible output.
LATEST VIDEO