Samsung HL-P5063W 50-inch DLP Rear-Projection HDTV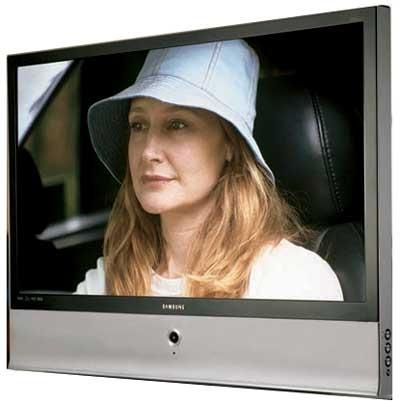 Once high-priced curiosities, TVs based on newer technologies like LCD and Texas Instruments' DLP (Digital Light Processing) now provide a reasonably affordable alternative to the tube sets we've been watching for decades. Flat-panel plasma models are still the kind most people lust after, but a more budget-minded buyer intent on snapping up a cool, new TV would do well to seek out a rear-projection model like Samsung's 50-inch HL-P5063W HDTV ($3,700).
Fast Facts
DIMENSIONS (WxHxD) 46 x 34 1/4 x 14 1/8 inches WEIGHT 77 1/8 pounds INPUTS rear HDMI; DVI; VGA; 2 composite/ S-video and 2 component-video, all with stereo audio; 2 analog RF antenna/cable side composite/S-video with stereo audio OUTPUTS composite-video/stereo audio PRICE $3,700 MANUFACTURER Samsung Electronics America, www.samsungusa.com, 800-211-7262
Key Features
• 1,280 x 720-pixel native resolution • Texas Instruments HD3 DLP chip • HDMI and DVI/HDCP digital inputs • Thin-bezel design
With a cabinet only 14 inches deep, this DLP set can be placed on a side of a room where it won't eat up a lot of living space. Of course, you could save even more room by springing for that wall-hanging plasma, but with prices hovering at eight grand and up for an HDTV model this size, you'll get way more bang for your buck with DLP.
The HL-P5063W is one of the first TVs to use Texas Instruments' HD3 high-def Digital Micromirror Device. This 1,280 x 720-pixel chip incorporates a technology called Smooth Picture that successfully eliminates the "screen-door effect" - a faint gridlike pattern that shows up on fixed-pixel displays like DLP and LCD TVs. The exterior details of Samsung's new DLP are also pretty smooth. The only control on the silver-mesh front panel is a large, round power button. Additional controls, along with an A/V input for camcorder hookups, are in easy reach on the side.
The wide-ranging connection options cover all the bases for high-def hookups, including HDMI (High Definition Multimedia Interface). You will, however, need an external digital tuner to get your local HDTV broadcast channels - the set's dual antenna inputs accept only analog TV signals. And its picture-in-picture (PIP) options are limited to the analog inputs, so you can't display two HDTV programs at the same time.
Samsung's remote control doesn't have a backlit keypad and the buttons covering its face are also fairly small, so you'll need to do some work to find the one you want in a dark room. You cycle through inputs by pressing the TV/Video button, or you can press Menu to call up the Input submenu, which displays a list of inputs you can scroll through. The P.Size button lets you toggle through the set's many display options: Wide (16:9), 4:3, Panorama, and two zoom modes for standard 480i (interlaced) programs, plus Wide and 4:3 for 480p (progressive-scan) and high-def sources.
SETUP Getting the Samsung up and running was a snap - fortunately, with fixed-pixel TVs like this one you don't have to worry about time-consuming setup issues like convergence. I could create a custom picture setting for each input by modifying any of the three factory presets and storing the changes. Cruising test patterns (see "in the lab," page 68) suggested that the Samsung was shy on green. Initially, I tried to fix things via the Color Weakness menu, but changes there pushed the colors even further out of whack. Bottom line: bypass this adjustment.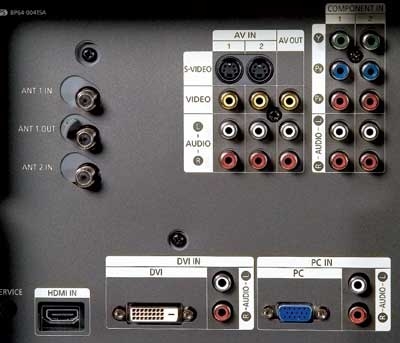 LATEST VIDEO