Samsung Highlights Innovative Video Technology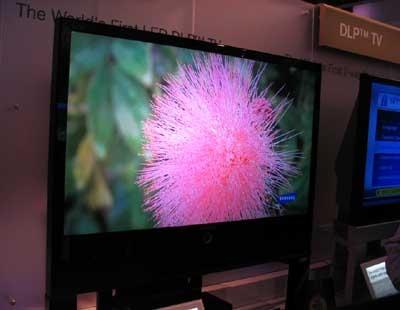 Samsung's HL-S567W 56-inch DLP rear-projection HDTV with LED light source
Samsung's 25,000-square-foot exhibit is among the largest at this year's CES - big enough to hold some mammoth TV screens. Included among them are an 82-inch LCD panel, which Samsung credibly claims to be the world's largest, an 80-inch plasma that it says is the largest currently in actual production, and a new 102-inch plasma that is just shy of the prototype 103-inch Panasonic on exhibit not too far away. Price and availability are not yet set for the big LCD, but the 80-inch plasma arrives in February.
Size is far from the only story, however. Samsung is touting LED lamps as longer-lived, more color-accurate light sources for DLP and LCD displays. The LED lamps in its new HL-S567W 56-inch DLP rear-projection HDTV are said to have a 20,000-hour operating life, far greater than any conventional light source. The set will be available in April for $3,999. A prototype large-screen LCD TV with LED backlighting is also on exhibit, but with no price or availability targets.
The company has some nifty new micro-products as well. Its tiny YM-P1 portable multimedia player receives TV and FM broadcasts and stores and plays both video and music. The 20-gigabyte model with a 4-inch widescreen color display will be available in April for $450. It supports almost every popular audio codec known and is JANUS-enabled for subscription music downloads. Battery life when playing video is said to be an unusually long 6 hours.
The YP-Z5 MP3 player is the iPod Nano's first direct competitor. Available with 2 or 4 GB of flash memory, it has a 1.8-inch color screen, supports most major audio encoding formats, and incorporates a rechargeable battery. It also has an aluminum body, which Samsung touts as preventing scratches and smudges. The YP-Z5 is JANUS and Microsoft Plays For Sure compatible. Not coincidentally, the 2 GB model will sell for $199 and the 4 GB model for $249 when they hit stores in February - the same prices as the comparable iPod Nano models.
Although Samsung made no firm commitments to price and availability for its Blu-ray high-definition DVD player, it did mention that a Blu-ray HD camcorder is in the works. Samsung hopes to be first to market with its Blu-ray player and plans "a price cut before launch." In other words, expect aggressive pricing from Samsung.
Check out more CES news. Back to Homepage What's New on S&V
LATEST VIDEO