Rotel RSP-1098 A/V Preamp/Processor Page 2
But my favorite user page was the one called Subwoofer Setup. This lets you dial in the sub's low-pass crossover independently of the various channels' high-pass crossovers - and it lets you assign a ±10-dB bass-level offset to be applied for the same four mode families mentioned above, plus DPL II, and yet another offset for the multichannel analog input. Being able to fine-tune deep bass for different kinds of multichannel recordings really pleased me, since I find many DTS recordings "bass-hot" and most Super Audio CDs bass-shy. Of course, there's also an on-the-fly level adjustment for each channel/pair, but this is temporary, being zeroed automatically whenever you change inputs or cycle through standby.

Rotel gives you several other well-considered options. Contour modifies high- or low-frequency "tilt," subtly changing the balance of the top- and bottommost couple of octaves by ±6 dB - and you can tweak these independently for each channel/pair. (Yet another on-the-fly Contour accessed through a separate menu page affects all channels equally and remains in force until reset.) Cinema EQ lets you tame too-bright soundtracks. And while the RSP-1098 doesn't have multiple memories for relative channel levels, it does give you a single User Defaults master memory that stores all your important setup choices, including levels, separately from the Factory Defaults memory.
KEY FEATURES
• Front-panel widescreen LCD video display
• Dolby Digital EX and DTS-ES 6.1-channel decoding
• Dolby Pro Logic II and DTS Neo:6 processing for 5.1/6.1-channel playback from two- or matrixed four-channel sources; Rotel XS 6.1-channel playback from all multichannel signals
• 4 HDTV-compatible component-video inputs, 1 output
• 5 A/V inputs, 3 outputs, all with S-video; 3 A/V record outputs
• 3 optical and 5 coaxial digital audio inputs; 2 optical and 2 coaxial digital audio outputs
• Multichannel analog audio input (8-channel)
• 3 stereo audio-only inputs; 1 record output
• 10 preamp outputs (7 main channels plus dual center and subwoofer outputs)
• Zone 2 A/V output including S-video and stereo line-level audio with independent source selection and volume control
• Dual-zone IR-repeater inputs, dual IR outputs; four 12-volt trigger outputs; RS-232 serial port
• 10-component learning system remote with 20 macro keys, 8-character LCD readout
• Software-upgradable from Internet via RS-232 port
I have relatively little to say about this Rotel's sound, because it didn't have much of its own - a very desirable trait. Dolby Digital and DTS soundtracks sounded impressively clean and dynamic, especially with topnotch productions like
Treasure Planet
. When Jim and his friends make their lifeboat escape from the mutiny (Chapter 12), the RSP-1098 delivered each zing and zoom with fine clarity, and each individual "splat" as they crash-land on the mushroom planet was similarly defined. Musical balance was excellent throughout the film's big orchestral score, as were low-level details like the ambient stirrings after the crash.
Analog sound from high-resolution multichannel discs was transparent. The gorgeously recorded Come Away with Me multichannel SACD by Norah Jones sounded sumptuous from start to finish. Tracks like the gospel-colored "Turn Me On" showed off every bit of their considerable instrumental definition and depth - as well as the tremendously natural quality of the vocal recording.
Like most components, the RSP-1098 doesn't provide configurable bass management for multichannel analog signals. (Rotel avows this as design philosophy more than pragmatism, believing that the artists and producers in the studio should decide how to handle the bass for multichannel music.) However, there is a Bass Re-Direct option on the multichannel input's setup page. Select "yes," and it simply sums everything below 100 Hz in all channels in the analog domain and sends it to the subwoofer output, adding it to any signal already present in that channel, while leaving the other channels full-range.
Bass Re-Direct worked quite well in my system, where the front and surround speakers have limited output below 80 Hz or so. Enabling Bass Re-Direct made things like the bass vamp of Jones's tango, "I've Got to See You Again," sound subtly fuller and richer.
DTS Neo:6 and Dolby Pro Logic II sound were at a similar high standard. Along with its four digital signal processing (DSP) modes for music listening, Rotel throws in Rotel XS, an always-on bit of DSP that spreads side-surround sound to back surround speakers (if you have any) on 5.1-channel material.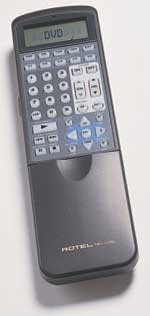 I found the RSP-1098 easy to operate. The supplied remote control is a nice, big eight-component handset with generously spaced buttons and good backlighting, a sensible layout, and secondary keys hidden beneath a slide-down cover. I liked it a lot - but regretted that it's a learning-only model, with no onboard code library.
However, this remote mitigates that omission by handling brilliantly a stumbling block of nearly all full-system remotes: differentiating between switching the handset from component to component and switching the master component's inputs. For example, press the CD key momentarily, and the controller now operates the CD player without changing the currently selected source. But press and hold the same key for a second or so, and the RSP-1098 also selects its CD input. I like this solution even though it means a certain amount of switching back and forth (using the remote's AUD key) when you need to operate the preamp. I also like the direct-access keys for surround-mode selection, Dolby Digital dynamic-range adjustment, global controls for Rotel's own Contour functions, and its multizone functions' Zone 2 command, all concealed neatly under the sliding cover.
HIGH POINTS Useful and cool front-panel video display. Fine audio/video performance. Flexible, intelligent crossover and bass-management options. Extensive Contour (EQ) controls.
LOW POINTS Remote not preprogrammed for other components. No headphone jack.
And, of course, I loved having that LCD screen right there on the front panel. It means you don't have to turn on the TV just to monkey with audio setups or balances - and it was fairly easy to read from my listening position 10 feet away. Better still, you can set the onscreen display to come up on the big screen, the front-panel LCD, or both - and the video source for the LCD can be independent from the main video output. In addition, the RSP-1098 is one of those rare components that can send its onscreen display to its component-video outputs.
Even without its way-cool screen, Rotel's RSP-1098 is a very solid performer whose design shows a great deal of thought and construction a good deal of care. And it's priced fairly considering all that it can do. This is one high-end preamp/processor that deserves close inspection by serious home theater builders and A/V dreamers alike.
PDF: In the Lab
LATEST VIDEO