Roku SoundBridge M1000
Convergence shows many faces to music lovers. If you've got the bucks, you can add a hard-drive-based music server to your system. Or you can pay a custom installer to bring IP-based networking to every room in the house. But if you just want to move music from one PC to one rack, all you need is a simple device and it doesn't have to cost much. One of many possible options is the Roku SoundBridge.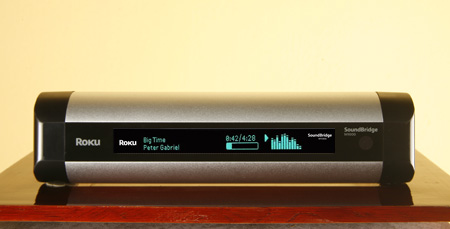 There are several versions of the cylinder-shaped SoundBridge. They differ mainly in the number of lines on the display and the placement of the inputs. The M1000, reviewed here, has a two-line display. Jacks are in the back, though in other versions, they are beneath the removable end-caps at the sides. The M1000 is 10 inches long and 2.5 around with a bright aqua-colored fluorescent display that measures 5.5 inches wide by 1 high.
Setup was literally plug-and-play because I used a wired connection, hooking up my PC's router to the SoundBridge with an Ethernet cable. SoundBridge is also wi-fi 80211b compatible. The latest M1000 has built-in wi-fi and the original came with a wireless CF card. If I'd been using a secure wi-fi system, I would have had to enter the security key. Anyway, the sweet little cylinder quickly established a connection to my router without any help from me.
To connect the SoundBridge to my Rotel receiver, I first tried a digital coaxial cable, but its plug was too wide to fit into the recessed jack panel. Then I tried a couple of digital optical cables but the problem recurred. Finally I found an optical cable with an exceptionally slender plug that did fit. Roku should either do away with the recess or at least open it up a bit. The system also has an analog stereo mini-jack output.

SoundBridge requires no special software. Instead it acts as a remote client for programs like iTunes, Windows Media Connect, Rhapsody, and MusicMatch. Other programs may work but not all will deliver the full SoundBridge feature set. Supported file formats include MP3, WMA, WMA-DRM, WMA Lossless, WAV, and AIFF. The AAC format used by the iTunes software is kosher but AAC-DRM files purchased from the iTunes music store are not. Apple allows streaming of protected AAC files only with its own AirPort Express.
I used both Windows Media Connect and iTunes. This involved telling the Windows Firewall to allow exceptions for them. Then I instructed the programs to allow folder sharing. If SoundBridge had been a permanent addition to my system, I'd have instructed WMC to automatically start folder sharing when Windows starts. Otherwise that has to be done manually and it takes a few minutes.
Bingo. SoundBridge found everything in my music library (or as much as my haphazard ID3 tag editing permitted). It also pulled the Internet radio stations set up by Roku through the router (even with the PC off). By going into My Network Places and clicking on SoundBridge, I brought up a browser-based interface that allowed configuration adjustments and editing of the radio station list. There's also a set of transport controls, so you can pause the music at the PC, but you can't select tracks through the SoundBridge web interface.
With no front-panel controls, the product relies heavily on its 18-button remote. The two-line display is extremely readable but the interface requires an arduous amount of button-punching. The main menu consists of: playlists, browse, search, show song queue, now playing, settings, and change library or configuration. You have to hit browse before getting to the artist, album, song, genre, and composer menus. Roku should have placed at least the first three in the main menu. The search function was similarly labor-intensive, scrolling through the alphabet three letters at a time.
The Roku SoundBridge is attractive, relatively simple to set up, and easy on the wallet. It could use a taller display with more lines but that would mean giving up some of its fetching cylindrical form factor. Many folks will like it as is.
Price: $200.
Rokulabs.com
Mark Fleischmann is the author of the annually updated book Practical Home Theater. For links to the latest edition, visit www.quietriverpress.com.