Roku to Release New Wireless Soundbar and Subwoofer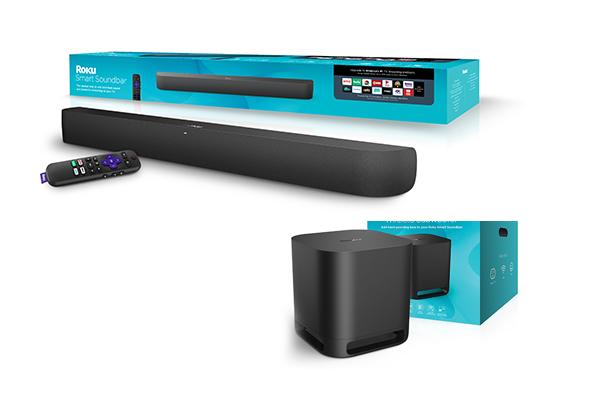 Following the success of its wireless speakers, Roku is expanding its audio line with two new products.  The first is a Roku soundbar that pairs with the second—a wireless subwoofer.  
Roku is known as user-friendly by those who struggle with understanding tech. The company continues its commitment to easy setup and use, as both the soundbar and subwoofer have Roku Connect and run on the Roku OS.  After plugging in to power, they will automatically connect and configure themselves with little direction from the user.  
Unlike the original Roku wireless bookshelf speakers (released last year) that only work with a Roku TV, the new soundbar works with any TV.  This is because a Roku streamer is built into the soundbar. Basically, the Roku Wireless Soundbar is like taking the Roku Ultra streaming player and marrying it with a soundbar.  It will seamlessly play audio from any of the channels on the built-in player.  Hooking up the soundbar to a TV's HDMI ARC (audio return channel) port makes it possible to play sound from other sources connected to the TV. A high-speed HDMI cable is included in the box. Alternatively, a TV can be connected to the soundbar using the included optical cable. You can also stream using bluetooth from your mobile device. And it has Spotify Connect. 
Because it has a built-in Roku player, the soundbar comes with Roku's voice remote, that has a microphone for search and simple commands. Adding to the soundbar's simplicity, the remote is a "Quick Anywhere" remote. This means it doesn't require line-of-sight for the unit to receive the remote signal. The soundbar can also be controlled by a Google Assistant or Amazon Alexa device. 
While it's great that the soundbar can now bring Roku speakers to any TV, it is simply stereo and does not have virtual surround.  Still, thanks to Roku's 2017 acquisition of the Danish audio streaming firm, Dynastrom, Roku has thrown some serious R & D into the speaker sound quality for a unit that's priced at $180. The 32-inch soundbar includes four 2.5-inch premium drivers—two right, two left. It supports Dolby Audio and has sophisticated signal processing.  On the video side, it supports 4K and HDR streaming up to 60 frames per second.  
Users can choose from three volume modes and signal processing algorithms that are designed to improve TV sound.  Automatic Volume Leveling reduces the inconsistencies in sound volume, which is particularly useful to bring down the levels of blaring commercials when listening to live TV. Night mode works within the streaming content to bring down the volume level of loud effects, so gunshots and explosions don't wake the kids in the next room.  When Speech Clarity is turned on, it enhances the dialog to make it easier to understand by separating the voices and bringing them to the forefront.  
The Roku Wireless Subwoofer was designed to work with the new soundbar to add dimension to videos and music. Roku is committed to creating a full sound line without abandoning customers who bought their earlier products.  The wireless subwoofer will also work with last year's bookshelf speakers with Roku TVs.   It'll add the rumble and bass to the Roku speakers or soundbar with its 10-inch driver 250W (peak power) digital amplifier, and can go as low as 40Hz. What's great about it is that it is wireless, so you can put it anywhere without running long cables around the room.
Like the soundbar, the Roku Wireless Subwoofer runs on the Roku OS and uses Roku Connect. It will automatically pair and configure itself with the other speakers so users don't have to deal with dialing in crossover for the subwoofer to handle bass and low frequency effects (LFE). It also has a $180 price tag. Roku Connect ties together the products that have Roku OS, and is set up to be expandable later. Hopefully the subwoofer will work with a virtual surround bar in the future. Until then, the new soundbar is certain to be better sound than is available on many TVs. Plus, your parents could even set it up without you. The Soundbar and Subwoofer are available for pre-order today and will be available to buy at Best Buy and on roku.com in mid-October.