Rogan, Young, and Spotify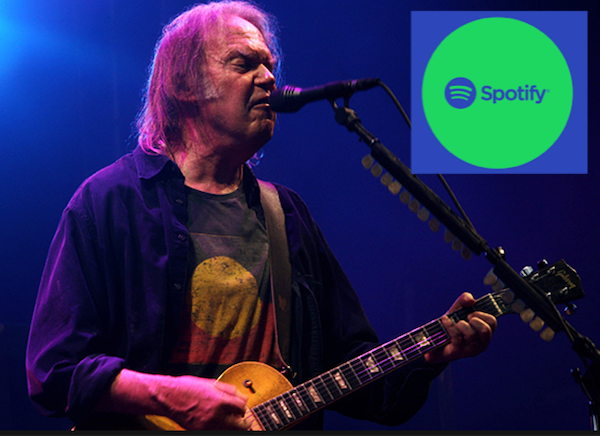 Over the last two years, social media has faced increased scrutiny for the information posted on its platforms. In response, Twitter and Facebook started either including links for more information on a subject or removing posts with false information. This past month, the same focus has turned to entertainment streaming platforms via Spotify.
In December, Spotify aired an episode of the Joe Rogan Experience (JRE) podcast where Dr. Robert Malone discussed Covid vaccines. Dr. Malone claims to be one of the architects of the mRNA technology used in the Pfizer and Moderna Covid-19 vaccines. He is also known for sharing misinformation about Covid-19, which led to the doctor being banned from Twitter.
In this episode of JRE, Dr. Malone claimed that hospitals receive financial incentives to diagnose Covid-19 deaths falsely (that claim had been disproven). He also said people had "mass formation psychosis" as they have been "hypnotized" into getting vaccinated and wearing masks. He also promoted the use of the anti-parasitic horse medication, Ivermectin, although the Food and Drug Administration has issued warnings against it.
The Medical Community Reacted
The episode caught the attention of Katrine Wallace. Wallace is an epidemiologist at the University of Illinois Chicago's School of Public Health who works with a community of experts to debunk medical misinformation on social media. After the interview, she received hundreds of messages from those who had heard the Malone interview.
"Their friends and family were sending it to them as evidence that the vaccines are dangerous and that they shouldn't get it," she said. "It provides a sense of false balance like there's two sides to the scientific evidence when, really, there is not. The overwhelming evidence is that the vaccines are safe and that they're effective."
"We are in a global health emergency, and streaming platforms like Spotify that provide content to the public have a responsibility not to add to the problem," Wallace said.
Wallace drafted an open letter to Spotify that was signed by 270 doctors, physicians, and science educators, asking the streaming service to take action against this misinformation.
The letter has now been signed by more than a thousand doctors and other experts. It states, "Mass-misinformation events of this scale have extraordinarily dangerous ramifications. As scientists, we face backlash and resistance as the public grows to distrust our research and expertise. As educators and science communicators, we are tasked with repairing the public's damaged understanding of science and medicine. As physicians, we bear the arduous weight of a pandemic that has stretched our medical systems to their limits and only stands to be exacerbated by the anti-vaccination sentiment woven into this and other episodes of Rogan's podcast."
The community that signed the letter was not asking Spotify to kick Rogan off the platform. They wanted the company to do more to moderate misinformation, be transparent about the rules of the platform, and create a system of flagging baseless claims. The letter further states, "Spotify has a responsibility to mitigate the spread of misinformation on its platform, though the company presently has no misinformation policy."
Spotify and Rogan's Initial Position
Last year, Spotify CEO Daniel Ek told Axios that the company does not take responsibility for Rogan's content. He likened the issue to "really well-paid rappers," saying that Spotify doesn't "dictate what they're putting in their songs, either."
Initially, Rogan defended both the Malone episode and a troublesome earlier interview with Dr. Peter McCullough. "Both these people are very highly credentialed, very intelligent, and very accomplished people, and they have an opinion that's different from the mainstream narrative. I wanted to hear what their opinion is." He continued, "I'm not trying to promote misinformation, I'm not trying to be controversial. I've never tried to do anything with this podcast other than just talk to people, and have interesting conversations."
Neil Young and Other Musicians Pull Out
Neil Young became aware of Wallace's letter and posted an open letter on his website (since deleted) where he asked his management and record label to remove his music from Spotify. "I am doing this because Spotify is spreading fake information about vaccines – potentially causing death to those who believe the disinformation being spread by them." The letter also stated, "Private companies have the right to choose what they profit from, just as I can choose not to have my music support a platform that disseminates harmful information. I am happy and proud to stand in solidarity with the frontline health care workers who risk their lives every day to help others." He continued with a now-famous quote, "They can have Rogan or Young. Not both."
After the initial letter was deleted, Young posted another open letter on his website thanking his record label and management for backing him in his request to remove all of his music from the platform. In the second letter, he added another jab at Spotify, "It is this: many other platforms, Amazon, Apple, and Qobuz, to name a few, present my music today in all its High-Resolution glory - the way it is intended to be heard, while unfortunately SPOTIFY continues to peddle the lowest quality in music reproduction."
Young's protest was backed by Edros Adhanom Ghebreyesus, the World Health Organization's (WHO) Director-General, who stated, "We all have a role to play to end this pandemic and infodemic."
A few days after Young pulled his music, Joni Mitchell posted a message on her website. "I've decided to remove all my music from Spotify. Irresponsible people are spreading lies that are costing people their lives. I stand in solidarity with Neil Young and the global scientific and medical communities on this issue."
Nils Lofgren, musician and longtime friend of Young, also posted an open letter on Young's website. In it, he states, "When these heroic women and men who've spent their lives healing and saving ours cry out for help, you don't turn your back on them for money and power. You listen and stand with them. As I write this letter, we've now gotten the last 27 years of my music taken off Spotify." He also put a call out to other musicians to "pick up your sword and start swinging."
Author Brené Brown said on Twitter that "I will not be releasing any podcasts until further notice. To our UnlockingUs and DaretoLead communities, I'm sorry and I will let you know if and when that changes. Stay awkward, brave, and kind." While some of the replies to the tweet accused Brown of squelching free speech, user Trev E. Trev, came to her defense, saying, "It's exactly how free speech works. She isn't legally preventing someone else from speaking. She is reacting to someone else's speech by exercising her own—the freedom not to associate with particular ideas is an essential part of free speech."
Rogan Responds
Rogan responded with a video in which he said, "I'm not trying to promote misinformation, I'm not trying to be controversial. I've never tried to do anything with this podcast other than just talk to people, and have interesting conversations." Yet, he admitted, "I don't know what else I can do differently other than maybe try harder to get people with different opinions on right afterward," adding that he will try to balance out these controversial viewpoints.
Rogan has also said he has "no hard feelings towards Neil Young and definitely no hard feelings towards Joni Mitchell."
Spotify Posts New Rules
On January 30th, Daniel Ek responded to the controversy. He stated, "Pick almost any issue and you will find people and opinions on either side of it. Personally, there are plenty of individuals and views on Spotify that I disagree with strongly. We know we have a critical role to play in supporting creator expression while balancing it with the safety of our users." Ek admitted that the company hadn't been transparent about the platform policies of what is and is not acceptable. Ek continued, "it's become clear to me that we have an obligation to do more to provide balance and access to widely-accepted information from the medical and scientific communities guiding us through this unprecedented time." Then, he said, "We've heard you – especially those from the medical and scientific communities." And he laid out Spotify's action plan. Spotify then posted the official platform rules addressing dangerous content, deceptive content and more. Content may be removed if the rules are broken, and repeat offenders may have their account suspended or terminated. This page also has a link to report an issue.
Migrating a Music Library to Another Service
For those who would like to leave their music streaming service for another platform and not lose their playlists and favorited albums, tunemymusic.com offers a conversion service. If you have a lot of songs in your library, you can choose the $4.50 monthly option and cancel once the songs have been migrated to the service of your choice.