R.I.P. James Gandolfini: A Soprano Sings Eternal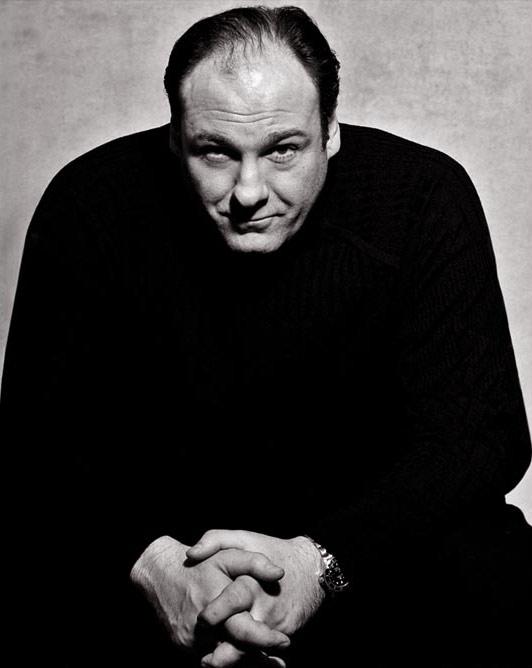 James Gandolfini, best known for his triple-Emmy-winning six-season stint as Tony Soprano on HBO's defining drama The Sopranos, died in Rome, Italy at age 51 on June 19, 2013.
Gandolfini infused what could have been a one-note character with depth and pathos that in no small way enabled The Sopranos (1999-2007) to become a full-fledged pay-cable phenomenon. The bigger and more impactful the show became, the more money HBO poured into it, in turn pioneering the high-def standard most TV shows now follow, regardless of network or presentation platform. Because of quality standard set by The Sopranos, we expect — no, make that we demand — that our shows both look and sound as good as a typical Hollywood blockbuster movie.
Gandolfini can be seen on Blu-ray in the recently released underperformer The Incredible Burt Wonderstone as well as in Sopranos creator David Chase's feature film debut, Not Fade Away. I reviewed Fade in the print and tablet versions of our June-July-August 2013 issue, and noted that it "follows a local-hero New Jersey band trying to do something, anything, to get out of the suburbs and into the big time, and some familiar-in-a-good-way beats chart the story. James Gandolfini channels Tony Soprano into the '60s as the skeptical father of dream-big bandleader Douglas Damiano (John Magaro), and Molly Price is his Livia Soprano-to-a-T mother. … In an extra dubbed 'The Basement Tapes,' Chase tellingly reveals that 'picking out music was my favorite process' on The Sopranos, and that Not Fade was his way to continue that process. (Quick, give this man with the golden ears another project to orchestrate.)"
Whenever a season of The Sopranos was released on DVD, the phenomenon we now call binge viewing would be in full effect. (To date, only Season 1 and both parts of Season 6 have been released on Blu-ray. And if for some reason you still harbor an affinity for the long-dormant HD DVD format, you can find both parts of Season 6 in that format as well.)
The following review, "Bada Boom!," is a blog I posted waaaaay back on March 13, 2006 as I binged on The Sopranos on DVD in order to prep for watching Season 6 when it aired on HBO later that spring. James Gandolfini was an actor you simply could not look away from, and I always marveled at how he could go from tender to intimidating in a heartbeat. James Gandolfini faded to black much too soon. He will be dearly missed.

I have a ritual when it comes to watching The Sopranos. Before the debut of each season, I rewatch every prior season on DVD so that I'm immersed in all the nuances that remind me why it's one of the best TV shows ever. (As director Peter Bogdanovich puts it during his commentary for a Season 5 episode, it's "more like life as opposed to a show.") I'm an extras and commentaries junkie too, so this can take a while, but it's worth it when it comes to enjoying a show as layered and textured as this one.
I did something different in anticipation for Season 6, however. Sure, I bought the Season 5 DVD box set upon its release in June 2005. But I didn't watch it right away like I'd normally do. Instead, I bit the bullet and kept it on the shelf and unopened until last week. That's right: Since Season 5 first aired, I watched no repeats, dialed up no OnDemand offerings, nothing. Like a lotta folks, I was PO'ed that it was taking forever for Season 6 to arrive, but I resigned myself (albeit somewhat begrudgingly) to wait until its debut date was absolutely confirmed to institute my ritual's timetable. I trust enough in creator David Chase's vision to know it would be worth the wait.
I was one of those who thought Seasons 3 and 4 were better than the consensus did, but for some reason, Season 5 let me down here and there along the way. After rewatching it on DVD over the course of the last 10 days, I think I've got my finger on the main reason why: unrealistically high expectations. Because The Sopranos sets the bar so high for itself (and every other show out there, for that matter), it's almost impossible for it to always measure up with what you expect out of it. I suppose part of my reaction stemmed from the fact that I instinctively knew the moment that Tony Blundetto (Steve Buscemi) was released from prison to start the season that his cousin, Tony Soprano (the ever-engaging and oft-intimidating James Gandolfini), would be the one to take him out. Even though his blood ran deeper than other Tony S "family? rub-outs (i.e., Ralphie), you just knew it was coming. Eventually. And, I'm sorry, but I don't care if Tony wasn't named in Johnny Sack's indictment (Episode 13) — I don't buy it for a second that he was able to elude the FBI when they swooped in on Johnny's house en masse. (I mean, they even hogtied the hobbled gardener, for crying out loud.) But, okay, they needed the symbolism of having Tony "the bear" lumber through his own backyard to wrap up the season.
But those are just quibbles. Watched as a whole, Season 5 unfolds in a masterful arc, with everything ultimately serving the overall unfolding saga de Soprano. And, hey, c'mon, fellow A/Vophiles — how about Carmela's film club gathering in the media room in Episode 2 ("Rat Pack") to watch Citizen Kane? Naturally, Tony later irritates Carm (Edie Falco) by reclaiming some of the components from the system. One thing I can tell you: I'd take a contract out on whoever dared to mess with my 5.1 setup.
COMMENTARY-O-RAMA
On to Season 5's five commentaries. Director Rodrigo Garcia dissects Episode 4, "All Happy Families...", quite well. His analysis and insight into the characters is spot-on, and it really informs how he showcases them visually. One telling remark comes when Garcia describes Gandolfini's physicality in certain scenes and decides, "Tony is unafraid of life." (Ah, but is he unafraid of death? Hmm.)
One of the best commentators out there is the aforementioned Peter Bogdanovich, who tackles Episode 6, "Sentimental Education." The director explains how he set up a lot of his shots and why — and discusses them at just the right time to correspond with the image onscreen. A number of commentators get stuck a few beats or scenes behind the onscreen action — and often because it's the first time they're watching or rewatching an episode, so they're reacting to what they see after the fact rather than anticipating and guiding you through the action. Not Bogdanovich. Even something as seemingly straightforward as a talking-head scene between Carm and the guidance counselor she sleeps with (David Straithairn) has added resonance after he walks you through it — as it happens. "The best stuff is simple," Bogdanovich observes, simply. True. And you gotta love his homage to Alfred Hitchcock when he discusses montages as being "pure cinema" — in Hitch's voice.
My only nit to pick here: Sometimes Bogdanovich is a bit too soft spoken, so I found myself fiddling with the volume more often than I would've liked.
The multitalented Steve Buscemi helms Episode 7, "In Camelot," and the favorite phrase in his commentary seems to be "I love [fill in actor's name here]." Of course, it's hard to argue with the caliber of talent that appears on this show — director included. (He also captained the infamous, classic "Pine Barrens" episode in Season 3, remember.) And, to the no-doubt delight of trivia buffs, Buscemi fills us in on which background/secondary characters are actually played by members of his own family.
Celebrated director Mike Figgis (Leaving Las Vegas) was wonderful in discussing Episode 10, "Cold Cuts." What a twist for him to unabashedly reveal that, unlike in feature films, where the director is often more ensconced in all aspects of the production than the actors are, he was the one who felt like a greenhorn when directing his first episode of the show, since most of the actors have been on it for years and totally know their characters and their motivations inside out. Plus, to him, "the characters are real. It's hard to differentiate between the actors and the characters." And considering the talent pool he was working with, that had to be downright intimidating, especially for a first-timer.
Drea De Matteo was the logical choice to discuss Episode 12, "Long Term Parking," since, in it, her character, Adriana La Cerva, meets her maker. "I used to play Adriana," she joked during the opening credits. We all knew it took hours putting Ade together, but to hear Drea confirm that she and her character couldn't be further apart from each other personality-wise shows how great writing, acting, directing, and, yes, wardrobe and makeup can really make a character sing. "Adriana was the [show's] only innocent character," she repeats throughout her commentary (well, to borrow from the poet laureate known as Britney S., she's "not that innocent"), and offing her "killed the heart of the show." We'll see how dark things get in Season 6 as a result, to be sure...
EXTRAS (NO EXTRAS)
I'd love to discuss the other extras included in this box, but there aren't any. (Episode guides don't count; yawn.) And that's a shame, really, since HBO constantly airs time-between-shows fillers like "The Buzz," where they're on the red carpet (and beyond) interviewing the cast members and creators at premiere events and afterparties. How hard could it be to get these things cleared for inclusion on the DVDs? (Honestly, they should do this for all of their shows' DVDs releases, but don't get me started.)
At any rate, all of this was great ramp-up fodder for Season 6's premiere last night. This may very well become a new ritual for me — rewatching prior seasons almost immediately before new ones air. I tried to do something similar for The Shield before Season 5 jumpstarted on FX back in January 2006, but a little thing called CES got in the way of that idea. I was able to rewatch Season 4 of 24 before their Season 5 hit the ground running on Fox, however. With that pattern now established, would I ever consider skimping on re-immersing myself in my favorite shows down in my home theater, you ask? Fugedaboudit!