Revel Home Theater
R
evel
. Interesting name for a new speaker company. The most apt definition of the word from my old dictionary is "to take much pleasure; delight." Or perhaps those who chose the name were intrigued by the wordplay they could make with "revel-ation."
No matter; it's a name that sticks in the mind. And with the management skill of Sandy Berlin (formerly head honcho at Madrigal Audio Labs), the design experience and talent of Kevin Voecks (formerly with Snell Acoustics), and the financial backing and facilities of Harman International Industries (a conglomerate consisting of JBL, Infinity, Madrigal, Citation, Lexicon, and Harman/Kardon, among others), this is a start-up company with serious resources and ambitious plans.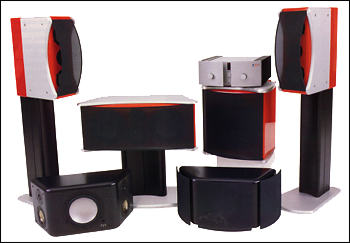 Revel's design brief is to produce no-compromise, state-of-the-art speakers. Their first product was the Ultima Gem, a stand-mounted, two-way design. Together with Revel's SUB-15 subwoofer, the Gem has been a hit at a number of audio shows. But like many new-product launches, it took some time to get full production up to speed. By then, Revel had also announced their dedicated center-channel and surround speakers, and the entire package is now available.
Putting the pieces together
The compact Ultima Gem sets the tone for the entire Revel Home Theater package: It looks like no other speaker I've ever seen, yet it is clearly an elegantly finished design. The Gem is available in several finishes with interchangeable side panels of black ash, rosewood, light oak, unfinished, or aluminum; prices range from $3000 to $4000 each. The aluminum trim is the most expensive version, but I can't recommend it for home-theater use; several thousand dollars extra for all three front speakers and a single subwoofer is a lot to pay for the risk of extraneous light reflections from your video display.