ReQuest iQ Multiroom Audio Distribution System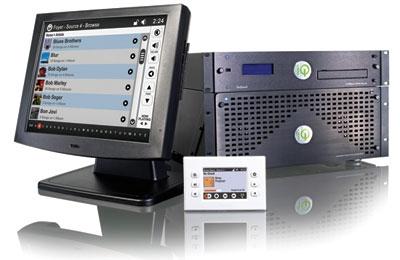 Thousands of users have chosen ReQuest servers to store their music collections through the years, typically feeding their outputs to audio-distribution and control products made by others. Now, after sitting on the sidelines, ReQuest is breaking into audio distribution in a big way by addressing the most common shortcomings of similar systems: power and control.
The new ReQuest iQ multiroom audio-distribution system has two main components that create an eight-zone/eight-source audio system capable of serving up four simultaneous music streams. Two different touchpanels and a slick Web interface are available for controlling the system not only from your home but from anywhere in the world. What's more, ReQuest has thrown in a cool twist to iPod integration that should please even non-Pod owners. It all sounds smart - but can this iQ pass the test?
Setup Wiring the iQ is a breeze, with all cabling running to the two principal components, the Intelligent Media Server (IMS) and the Intelligent Multiroom Amplifier (IMA). The system comes in three sizes, referring to the number of uncompressed CDs it can hold. My sample included the 400-disc model ($6,499); 600 ($6,999) and 800 ($7,999) versions are also available.
A single 15-inch TS.15 touchpanel connects to the IMS via USB and VGA cabling. Although there are ways to send VGA and USB signals lengthy distances over Cat5 cabling, this will need to be planned for if the IMS isn't centrally located. As many as eight of the smaller 3.5-inch iQ.TS35 touchpanels can be connected to the IMS via individual Cat5 runs. The IMS also has an Ethernet jack for Web connection and a two-way RS-232 serial port. Four sets of analog audio outputs correspond to the four available audio streams, with a set of optical and coaxial digital outputs carrying signals from Stream 1.
The IMS features composite-, component-, and S-video outputs. I was disappointed to discover that these are all disabled when the TS.15 touchpanel is connected to the VGA output, however. You get either the terrific touchpanel or an onscreen display, but not both.
LATEST VIDEO